Posted 13th July 2012
Greenwich Council's planning department have confirmed that ex-Greenwich Playhouse landlords - Beds and Bars (aka Belushis / Interpub / St. Christopher's Inn /) have embarked on building works to convert the 20 year old theatre space into a 26 bed hostel for Olympics attending backpackers without having obtained planning permission or change of use.
The planning department at Greenwich Council issued Beds and Bars yesterday with a legal notice instructing them to immediately stop the conversion of the once theatre space at 189 Greenwich High Road until such a time as they have secured 'change of use and planning permission'.
The Greenwich Playhouse which was closed in March 2012 annually presented some 14 theatre events and created employment and entertainment for some 15,000 people. The closure of the popular and acclaimed venue was covered internationally in the media and provoked public outrage. At the time and in a cynical damages limitation exercise Beds and Bars widely asserted that the theatre's closure had nothing to do with the Olympics and that they were committed to maintaining a theatre/arts space at 189 Greenwich High Road for the community. 
Greenwich Playhouse artistic director Alice de Sousa said:
'Nothing which this self-discredited hostel/pub chain do surprises me. Their deeds have always spoken louder than their deceptive words. Nevertheless, it is painfully evident how culturally impoverished the Royal Borough of Greenwich has become since the closure of the Greenwich Playhouse. It seems that the residents of Greenwich (a host borough) and thousands beyond (since our venue attracted people from all over the world), are being 'short-changed' on political pledges pertaining to the cultural legacy for the 2012 Olympics.'
Theatre supporters have been urged to immediately:
Email Greenwich Council's planning and building control's department to request that they use all powers at their disposal to ensure that Beds and Bars are forced to comply with the law and do obtain 'change of use' and 'planning permission' before continuing with the conversion of the theatre space into bunk-bed facilities; further that building works do indeed stop until such a time as these legally required licenses have been granted.
Emails should be sent to the following departments at Greenwich Council and to Nick Raynsford, Greenwich MP:
building.control@greenwich.gov.uk
planningapps@greenwich.gov.uk
raynsfordn@parliament.uk
We ask our friends and colleagues in the media to consider giving coverage to this outrageous example of Olympics generated greed and destruction of community needs by big business interests!
The future of the Greenwich Playhouse remains uncertain. The theatre is engaged in protracted and complex negotiations with Greenwich Council and with a nationwide builder with view to securing a future home for the much loved studio theatre.
· For further information please contact Alice de Sousa on alice@galleontheatre.co.uk
· www.galleontheatre.co.uk
Posted 14th April 2012
THE GREENWICH PLAYHOUSE HAS FOR TWO DECADES SERVED ITS COMMUNITY WITH DISTINCTION AND TO INTERNATIONAL ACCLAIM. IN THE LAST 20 YEARS SOME 230 PROFESSIONAL THEATRE PRODUCTIONS HAVE BEEN STAGED. THESE HAVE ENTERTAINED AND EMPLOYED MANY, MANY TENS OF THOUSANDS OF PEOPLE.
ANNUALLY THE GREENWICH PLAYHOUSE CREATES WORK AND ENTERTAINMENT FOR 15,000 PEOPLE
THE GREENWICH PLAYHOUSE AND GALLEON THEATRE COMPANY RECEIVE NO FUNDING WHATSOEVER
AS FROM THE 10TH APRIL 2012 A VITAL LOCAL AND LONDON WIDE CULTURAL FACILITY WAS PERMANENTLY LOST.
THEATRE SUPPORTERS ARE URGED TO JOIN THE THOUSANDS WHO HAVE EMAILED FROM ALL OVER THE NICK RAYNSFORD, MP raynsfordn@parliament.uk AND THE LEADER OF THE COUNCIL CHRIS ROBERTS ON chris.roberts@greenwich.gov.uk
THE THEATRE'S ARTISTIC DIRECTOR CAN BE REACHED ON alice@galleontheatre.co.uk
GALLEON THEATRE COMPANY IS CURRENTLY WITH THE SUPPORT OF GREENWICH COUNCIL PLANNING AN OPEN-AIR THEATRE PRODUCTION WHICH WILL TAKE PLACE AT VARIOUS IDYLLIC ROYAL BOROUGH OF GREENWICH LOCATIONS THROUGHOUT JULY AND AUGUST 2012.
GALLEON THEATRE COMPANY IS ACTIVELY SEEKING TO SECURE A FUTURE HOME FOR ITS WORK AND FOR THE GREENWICH PLAYHOUSE. THE COMPANY IS IN NEGOTIATIONS WITH GREENWICH COUNCIL AND PROPERTY DEVELOPERS.
GALLEON THEATRE COMPANY URGES ITS SUPPORTERS TO CONTINUE TO SUGGEST POTENTIAL FUTURE LOCATIONS FOR THE COMPANY'S WORK. THESE ARE SOUGHT NOT EXCLUSIVELY IN GREENWICH BUT THROUGHOUT LONDON AND INFORMATION SHOULD BE EMAILLED TO alice@galleontheatre.co.uk
Finally, we thank our many thousands of supporters who have over two decades generously contributed to making the Greenwich Playhouse and Galleon Theatre Company a world wide renowned and respected producer of quality independent theatre.
Alice de Sousa
Artistic Director
Posted January 2012
The Greenwich Playhouse will close its doors on the 10th April 2012 after twenty years of service to theatre and following a final production by Galleon Theatre Company of the great John Webster classic The Duchess of Malfi.
The Greenwich Playhouse will close in April 2012 as the theatre's landlords - Beds and Bars - have decided not to renew this popular South East London venue's lease in order to exploit commercial opportunities offered by the Olympics. Theatre landlord's Beds and Bars, run hostels throughout Europe, offering cheap bunk-bed facilities for backpackers.
The Greenwich Playhouse is located in a building which has housed a studio theatre since 1989. Galleon Theatre Company took residency at the venue in 1995 and has since staged an incomparable body of work. The Greenwich Playhouse is Greenwich's all year producing theatre. Annually it stages in the region of 12-14 theatre productions and these generate work and entertainment for some 15,000 people.
The venue and resident company's artistic director, Alice de Sousa, said:
"The Greenwich Playhouse and Galleon Theatre Company have over two decades made an immeasurable contribution to our capital's cultural infrastructure. The Greenwich Playhouse is one of London's most established small scale theatres. The work shown at this critically acclaimed venue draws annually from all over the world and the immediate community many, many thousands of people. The Greenwich Playhouse has been a platform for celebrating theatrical excellence since 1995, when Galleon Theatre Company became resident. It has staged hundreds of high quality theatre productions which have entertained and created work for hundreds of thousands of people. It is regrettable that the theatre's landlord Beds and Bars, who have benefitted for eleven years from generous revenue generated by the theatre's substantial trade, should have their sights focused on such short term objectives as the Olympics.'
The Greenwich Playhouse and Galleon Theatre Company are in discussions with Greenwich Council, who have been active supporters of the organisation's efforts to find a new home in a borough where they have been resident for over sixteen years.
The Greenwich Playhouse's final production:
THE DUCHESS OF MALFI
by JOHN WEBSTER Dates: 21st February - 18th March 2012
Directed by Bruce Jamieson;
Produced by Alice de Sousa;
Presented by Galleon Theatre Company at the Greenwich Playhouse
Costumes by Natasha Piper;
Scenery by Charlotte Randell;
Lighting by Philip Jones.
Tues-Sat @ 7.30pm & Sun @ 4pm
Tickets: £13, £10 (concs)
Posted November 2011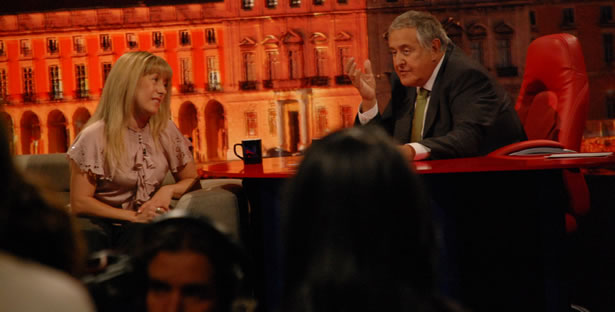 Alice de Sousa appeared on Portuguese television to discuss her twenty five year career as an internationally award winning actress, producer and writer. In a prestigious interview on Portugal's national television channel RTP 1 and on its major show 'Nico a Noite' hosted by Portugal's star of television and film Nicolau Breyner, Ms. de Sousa spoke at length about her many past theatre productions and of her future plans for the exciting slate of feature films which she is currently developing with international partners.
For an extract of this interview, please visit here
top
Posted May 2011

Alice de Sousa and award winning film maker and producer Nicolas Steil have created Iris Productions UK Ltd. a film production and financing company.
Iris Productions UK is the British representative of The Iris Group, a film production group based in Luxembourg, with sister companies in France, Belgium, UK and Germany. The Iris Group has been producing high quality independent cinema, animation and documentary since 1986. The company has produced nearly thirty feature films, many of these have internationally won awards, are regularly selected for inclusion in international festivals and have been selected by the Academy of Motion Pictures in the Best Film in a Foreign Language category.
The Iris Group annually produces four high quality features.
For further information please contact Alice de Sousa on alicedesousa@iris-uk.eu
For further information on the Iris Group, please see the website www.theirisgroup.eu
Email for more information
top
Posted January 2011

Galleon Theatre Company's world première of THE MAIAS was originally stage at the Greenwich Playhouse in 2002. In 2011, Galleon is reviving this production which was nine years ago uniformly and internationally acclaimed.
The Maias will be showing the the Greenwich Playhouse from 8th March until 3rd April 2011. For full details download the official press release.
Download Press Release
top
Posted December 2010

Galleon Theatre Company is delighted to announce that its company directors, Bruce Jamieson and Alice de Sousa, have been respectively nominated in the 'Best Director' and 'Best Producer' categories for the Off West End Theatre Awards - The OFFIES.
The OFFIES reward and honour the excellence of independent theatres in London.
The OFFIES will be announced on Sunday 27th February during a reception hosted by Simon Callow.
Read more about the "Offies"...
top
Posted October 2010
Alice de Sousa, Artistic Director of the Greenwich Playhouse and Galleon Theatre Company, and CEO of Galleon Films, was presented with the coveted award 'Prémio de Talento ' in the category of the 'Performing Arts'...
Download press release...
top
Posted July 2010

Galleon Films Ltd. (UK) in co-production with Iris Productions (Luxembourg - www.irisproductions.lu) will create the first ever filmic reworking of this incomparable classic, which has for nearly four hundred years secured won towering stage performances from the leading actors of each successive generation.
Casting has commenced for The Duchess of Malfi feature film, which will be directed by the 2010 Oscars shortlisted director and Palm Springs Film Festival nominee - Nicolas Steil.
More on Galleon Films...
top