A Doll's House
by Henrik Ibsen. Translated by Micheal Meyer 
Performed at the Greenwich Playhouse December 2004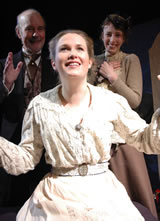 Galleon Theatre Company presented between the 7th December and the 9th January 2005, a sell-out and hugely acclaimed production of Michael Meyer's translation of A Doll's House by Henrik Ibsen.
Galleon's revival of A Doll's House was set at Christmas and against an apparently idyllic backdrop of marital bliss and domestic cheer. It showed that marriage is not sacrosanct, and that the prime duty which an individual has is to discover who they are and then to become that person. Although when originally staged in 1879 Ibsen's play caused controversy, by the end of that century there was scarcely a country where it had not been performed.
"My enemies have been a great help to me - their attacks have been so vicious that people come flocking to see what all the shouting was about." - Ibsen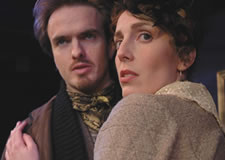 A Doll's House exploded sensationally onto the theatrical landscape and caused scandal wherever it was staged or read. In Germany, Ibsen's notion of personal freedom was so unpalatable, that he was forced to write a different ending to restore masculine supremacy in the home.
"A woman cannot be herself in modern society. It is an exclusively male society, with laws made by men and with prosecutors and judges who assess feminine conduct from a masculine stand point." Ibsen
A Doll's House was first performed in London in 1889. It sounded a death knell on 'Victorian Values' and paved the way for writers such as George Bernard Shaw, Thomas Hardy and a whole host of 'New Woman' novelists. Ibsen was the most important playwright of his generation and his plays changed the main current of European literary thinking and remain to this day popular, relevant and thought provoking.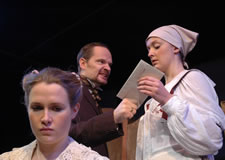 A Doll's House was staged by the internationally acclaimed Galleon Theatre Company and the production was led by director BRUCE JAMIESON and producer ALICE DE SOUSA. BRUCE JAMIESON has previously directed over twenty GALLEON productions; acted some sixty stage plays. His television and film work includes: Roughnecks (BBC); In Suspicious Circumstances (Granada); Crime Solver (BBC); Ali G-Inda House (Universal); Monarch of the Glen (Ecosse); Spongebob (BBC); and Murphy's Law (Tiger Aspect). ALICE DE SOUSA has produced over sixty stage plays; played leading roles in some thirty theatre productions; written several acclaimed theatre scripts; and was in 2004 awarded by the American Biographical Institute, the distinction of 'Great Women of the 21st Century' and nominated for the 'Woman of the Year Award 2005'. These awards recognise the impact on society of the work of 1000 prolific women throughout the world.
CREDITS
Director – Bruce Jamieson
Producer – Alice de Sousa
THE CAST
NORA – Alice Grace
HELEN – Stephanie Nielson
TORVALD – Stephen Russell-Bird
MRS. LINDE – Kate Izon 
DR. RANK – Martin Beere
KROGSTAD – Alex Hutchinson
The Creative Team
Deputy Stage Manager – Elizabeth Buckeridge
Costume Design/Construction – Richard Cooke
Lighting Designer – Robert Gooch
Scenery Design/Construction – Alex Marker
Publicity Design – Alison Rayner
Stills Photographer – Paul L.T. Welch 
REVIEWS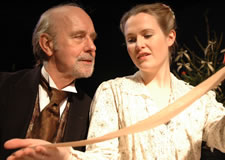 "In many ways this is an insightful production. Bruce Jamieson's revival of the Ibsen play, despite its 19th Century setting, always seems startlingly modern." – THE GUARDIAN
"Something must be said for the Greenwich Playhouse, it is remarkably refreshing to come across a theatre of such a high standard – one that exudes class. Galleon's production is simply one of those not to be missed!" – indielondon.co.uk
"This excellent production benefits from a very strong cast and expert steerage from director Bruce Jamieson and producer Alice de Sousa… An intelligently staged, beautifully executed production that I was extremely glad to watch. Highly recommended."." – Theatre World
"If this were a Hollywood movie, we'd be cheering – and not just because the oppressed stands up to the oppressor." – Time Out