Alice de Sousa (Actress, Producer and Writer)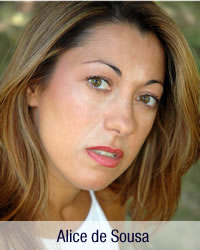 As an actress has played leading roles in some thirty plays including Anne Boleyn in Anne of the Thousand Days; Hermione in The Winter's Tale; Ophelia in Hamlet; Marina in Pericles; Elvira in Blithe Spirit; and Millamant in The Way of the World. At this venue (1995-98), produced and played the lead in Celestina (de Rojas); the Duchess in The Duchess of Malfi; Juliet in Romeo and Juliet; Lady Macbeth in Macbeth; and Dona Madalena in The Pilgrim.
As a theatre Producer has created over seventy professional productions and as writer has written numerous acclaimed theatre plays and film scripts.
In 1999 produced an Open-air Shakespearean Festival (Well Hall Pleausance). In 2000 re-opened the Greenwich Playhouse. Thereafter, producedHamlet; Company (and its transfer to the Palace Theatre); Pygmalion; Richard III; You're Gonna Love Tomorrow; Peep Show; Hedda Gabler and played the title role; The Crime of Father Amaro; Cousin Basílio which she adapted for the stage; Shadows on the Sun; The Importance of Being Earnest; 3 Sisters; The White Devil; 'Tis Pity She's a Whore; The Ruffian on the Stair & The Erpingham Camp; The Maias which she adapted and played Maria Eduarda; wrote and produced Inês de Castro; King Lear and played Goneril; Absent Friends; A Doll's House; The Heiress of the Cane Fields which she adapted and played Madalena; The Seagull; translated and played Joana in The Crime of The Old Village; adapted and played Matilde in Thanfully there is Moonlight!; produced and played, for the second time, the title role in Hedda Gabler; produced The Merchant of Venice; wrote and produced Aristides - the Outcast Hero; The Importance of Being Earnest; and The Cherry Orchard.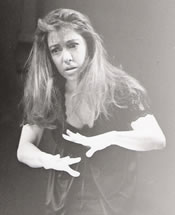 Ms. de Sousa is developing four feature film projects for Galleon Films Ltd. The lead project, a modern reworking of The Duchess of Malfi, which will be directed by the Oscar shortlisted director Nicolas Steil, is currently casting and shortly go into production.
In 2009, Ms. de Sousa won two international awards, including the prestigious Portuguese Government's 'Prémio de Talento, in recognition of her 25 year career in the theatre. In 2005 won the American Biographical Institute's award for 'Great Women of the 21st Century', and in 2006, the medal 'Woman of the Year'. In 1997, she obtained an MA in Portuguese Studies from King's College, London; and previously graduated from South Bank University with a first class degree in EEC Law.