ARISTIDES - THE OUTCAST HERO
 
Galleon Theatre Company, with the support of the Calouste Gulbenkian Foundation, Camões Institute and The Batty Charitable Trust, was delighted that its first production of 2009 was the World Première of 'Aristides – the Outcast Hero'.
 
"Under artistic director Alice de Sousa, the Greenwich Playhouse is surely London's leading exponent of Portuguese culture" – Time Out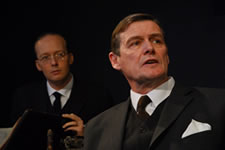 On the 27th January and in support of national events marking the Memorial of the Holocaust, Galleon Theatre Company opened with the World Première of Alice de Sousa's new play. Aristides – the Outcast Hero celebrates the true story of Aristides de Sousa Mendes, who disobeyed his government and issued 30,000 transit visas to refugees seeking to escape the Nazis. Aristides de Sousa Mendes' humanitarian and selfless actions represent the most significant life saving effort undertaken by one individual during WWII. Posthumously, his altruism has been recognised world wide but in Britain his story remains largely unknown.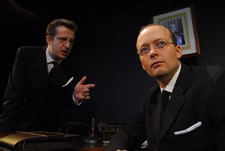 In spring 1940, a multitude of desperate people fleeing the advancing German armies poured into Bordeaux. In their thousands they queued outside the Portuguese Consulate hoping to be granted visas allowing them to cross Franco's Spain (recently torn apart by civil war) to neutral Portugal and from there to the free world.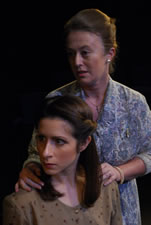 The Portuguese Consul, Aristides de Sousa Mendes agonised over the insuperable dilemma: whether to obey his government's orders and refuse to grant visas or to answer the screaming voice of his own conscience and save as many as possible. Disregarding professional and personal consequences which were to tragically punish him for the rest of his life; he disobeyed and issued visas, regardless of religion, race or political creed, and to anyone that needed them. It is not known precisely how many Aristides saved but it is thought that some 30,000 visas were granted; some of these were issued to families and so each visa could provide escape for several generations.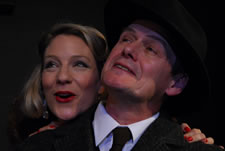 The Holocaust is believed to have killed some 15 million people. The vast majority of these were Jewish. Other victims included some 1.5 million children; disabled people; Gypsies, homosexuals, those of African descent, Christian pastors and Catholic priests, Jehovah's Witnesses, Russian prisoners of war, trade unionists, and any other individuals who were considered to be racially inferior or degenerate were murdered by the Nazi regime. The thousands queuing, in the suffocating heat, outside the Portuguese Consulate in Bordeaux would undoubtedly have faced a similar and appalling destiny.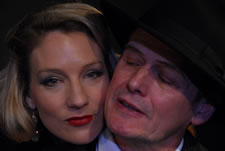 Galleon Theatre Company's lovingly created and thought provoking production seeks to celebrate an ordinary man, who did extraordinary things. If we should measure the quality of an individual by the values they uphold, then Aristides de Sousa Mendes must surely be one of the greatest of men.

The company that presented Aristides – the Oucast Hero exceeded thirty theatre practitioners and was led by:
The Director: BRUCE JAMIESON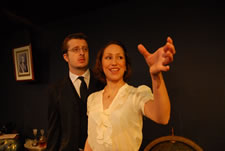 Aristides - the Outcast Hero, is directed by Bruce Jamieson who has previously directed over thirty Galleon acclaimed theatre productions which include Hamlet; Pygmalion; Cousin Basílio; Shadows on the Sun; The Importance of Being Earnest; 3 Sisters; The White Devil; 'Tis Pity She's a Whore; The Maias ; Inês de Castro; King Lear; Absent Friends; A Doll's House; The Heiress of the Cane Fields; The Seagull; The Crime of The Old Village; Thankfully there is Moonlight!; Hedda Gabler; and The Merchant of Venice.  As an actor, he has played leading roles in some sixty stage plays; and his television and film credits include the recently released feature film The Oxford Murders (with John Hurt & Elijah Wood); Murphy's Law (Tiger Aspect); Monarch of the Glen (Ecosse); Ali G-Inda House (Universal); Roughnecks (BBC); In Suspicious Circumstances (Granada); Crime Solver (BBC); and Spongebob (BBC).


The Writer & Producer: ALICE DE SOUSA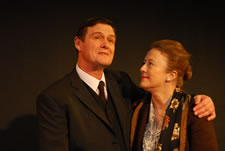 Aristides - the Outcast Hero, is written by award winning Alice de Sousa who has written many critically acclaimed stage and screen scripts; produced over seventy theatre productions; as an actress, played leading roles in some thirty plays; and won in 2005 the American Biographical Institute's awards - 'Great Women of the 21st Century' and 'Woman of the Year 2005'. (These awards exclusively recognise worldwide the impact on society of the work of 1000 prolific women). In 2007, she was short listed for the Portuguese Government's illustrious award 'Prémio de Talento 2006', in recognition of her internationally celebrated writing and theatrical productions of Portuguese literature. Ms. de Sousa is currently developing four feature films with budgets ranging from 7M - 15M Euro and including her film script of Aristides - the Outcast Hero which will be co-produced with France and Portugal. She will shortly begin work on her first feature film: a modern re-working of the Jacobean classic 'The Duchess of Malfi', which will commence filming in Luxembourg in autumn 2009. 
THE CAST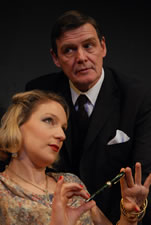 (In Order of Speaking)
BARMAN – RICHARD UNWIN
THE WOMAN – SUZANNE GOLDBERG
SEABRA – ROBERT PAUL
ARISTIDES – MICHAEL HUCKS
ANGELINA – SUE BROBERG
FERNANDA – JANET COULSON
JOANA – HANNAH-JANE PAWSEY
JOSÉ – OWEN G. BEVAN
DAVENPORT  – CHRIS MANNING-PERRY
SYNEK  – DANIEL MOORE
VILLAND – RICHARD UNWIN
ANDRÉE – ANNA RUBEN
LAPORTE – RICHARD UNWIN
RABBI CHAIM KRUGER – BARRY DAVIS
PEDRO NUNO – PAUL LAWRENCE-THOMAS
DEGENFELD – DANIEL MOORE
OULMONT – CHRIS MANNING-PERRY
THE CREATIVE TEAM
Lighting Designer/Sound Editing – Robert Gooch
Deputy Stage Manager – Elizabeth Buckeridge
Costume Designer – Fiona Parker
Assistant Costume Designer – Teresa Pocas
Production Assistants – Alex Critoph; Nathan   Rumney; Nicole Alison; Georgina Lane
Publicity Designer – Alison Rayner
Make Up Artist – Joanna Chicuta
Stills Photographer – Paul L.T. Welch
Writer/Producer – Alice de Sousa
Director – Bruce Jamieson
Press Quotes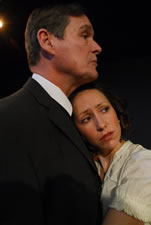 Galleon Theatre Company has been staging an internationally acclaimed and diverse repertoire of work since 1989.

'The name Aristides de Sousa Mendes is relatively unfamiliar in Britain, and it's a story worth telling' - The Times
 
'The direction is polished; the play's energy builds from peacetime to the murk of war. The crescendo comes during a scene where Aristides, with help from his large family, goes on a visa stamping frenzy, as the bombs begin to rain down, with the bass-ridden score and sound effects painting a manic picture.'- Docklands News


'A thoughtful, committed production, resolutely putting the spotlight on one of the Second World War's neglected heroes.' - indielondon.com
 
'The play succeeds in being the long awaited homage to a forgotten hero which writer and producer Alice de Sousa set out to achieve. However, it is also a play that raises uncomfortable questions about the nature of mankind. By producing this play, Galleon Theatre Company is proving theatre can still be used as a tool to uncover forgotten war stories.' - This is Local London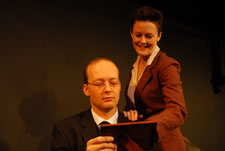 'Perhaps it's only a matter of time before a Hollywood producer sees the blockbuster potential in Alice de Sousa's script; but for now, let us stop and take comfort in the knowledge that this important and well-researched play about an exceptional man was born and realised in Greenwich.' - Newsshopper
 
"Galleon are renowned for producing translation of Portuguese work, but this play has much broader appeal, it is a story which everyone should hear.' - remotegoat.co.uk
'Since 2001, the UK has recognised January 27 as Holocaust Memorial Day. This year, the world premiere of a new Holocaust-themed drama at the Greenwich Playhouse by Galleon Theatre Company, gives this national event a more local prevalence.' - Newsshopper
'It would have been easy for this production to overindulgently tug at the heart strings given the subject matter, but thankfully the script moves swiftly and unsentimentally on just as a lump begins to form in your throat.' - remotegoat.co.uk

'In a cast of thirteen, full use is made of the Greenwich Playhouse space.  Not just for what happens on-stage, but particularly the sense of desperation of the queuing thousands outside the Portuguese Consul.  This, you feel, is in great part due to the direction of Bruce Jamieson.' - uktheatre.net
'On a minimalist set the penetrating, powerful music and sound brought Bruce Jamieson's eminently watchable, filmic production to life. The well styled 1940's costumes added to the impression that this was a professional company with high production values.' - remotegoat.co.uk
 
'Directed by Bruce Jamieson and written and produced by Alice de Sousa, the play engagingly presents a conscience-led diplomat, who decides to set aside politics, religion and race - to save lives.' - indielondon.com
 
'It is very much to writer Alice de Sousa's credit that she maintained interest throughout in the story of Aristides de Sousa Mendes.' - uktheatre.net
'The play gains power when we are forced to watch how the noble, life-saving former aristocrat is punished for his actions and shamefully driven into a lonely, neglected pauper's existence. It's a stark scene: punished, disgraced and having lost everything, Aristides, the supposed hero, just sits there, quietly and humble, hiding underneath a small, dusty blanket. Aristides – The Outcast Hero doesn't try to conceal the fact that its main raison d'être is to play the trumpet for someone history hasn't acknowledged properly. Aristides' story is an important, and a very inspiring, story.' - indielondon.com