A Woman of No Importance.
Was staged at the Greenwich Playhouse between the 14th December to the 16th January 2011.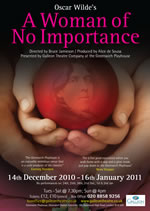 At the close of its twentieth year of presenting internationally acclaimed theatre, Galleon Theatre Company was delighted to stage Oscar Wilde's hilarious satire - A Woman of No Importance.
Galleon's production of A Woman of No Importance transposes Wilde's comedy drama to a Christmas party at the end of the 1950s. The seamless and careful repositioning of the play from 1893 to the end of the 1950s liberates Wilde's heartrending play from melodramatic Victorian trappings and brings it to an age closer to our own. Whereas, Bruce Jamieson's sensitive realignment of Wilde's text heightens contemporary audience empathy with the characters, their predicaments and delivers a thought provoking and highly enjoyable seasonal theatrical treat.
In A Woman of No Importance Wilde exposes, through piercing wit, the hypocrisy of a society which scorns and punishes a woman for her sexual misdemeanours but applauds and grants honours to the man in question. The play centres on the then publically damning revelation of Mrs. Arbuthnot's long-concealed secret - she conceived a child out of wedlock.
"The Greenwich Playhouse really is producing the very best theatre in London."-  Remotegoat *****
By setting the production in late 1950s, Galleon positions Wilde's plot and characters within a specific British socio-political context and in the last decade when it was still unacceptable for children to be born outside of marriage. By 1959, fourteen years after men returned from War to reclaim traditional roles in the work place and within the family, women had reverted to domesticity; and Victorian morality together with its gender expectations had once again been re-affirmed as the desired norm. Suddenly, a woman with a past like Mrs. Arbuthnot would have found herself socially stigmatised.
The 1950s was a decade largely characterised by America's muscular assertion of its political, cultural, economic, and militarily Super Power status; by the advent of the consumer age; and by the emergence of a distinctive and rebellious youth culture, expressed in particular through fashion and music. In this context, Hester, the young idealistic, American woman of Wilde's play, symbolises the impending infiltration of American values and the dawn of the 1960s which was to revolutionise society forever.
A Woman of No Importance follows Galleon's sell out, 2009 production of The Importance of Being Earnest which garnered great critical acclaim and broke fifteen years of box office records at its home - the Greenwich Playhouse.
"This studio-sized venue has been put on the cultural map with productions of epic quality."– South London Press
A Woman of No Importanceis creatively spearheaded by a very experienced and acclaimed director - BRUCE JAMIESON and by ALICE DE SOUSA, a multi-award winning producer.
The Director - BRUCE JAMIESON is a co-founding member of the Greenwich Playhouse, Galleon Theatre Company and Galleon Films. He has directed nearly thirty previous Galleon productions and played leading roles in some sixty stage plays. As an actor, his television and film credits include The Oxford Murders (Tornasol); Murphy's Law (Tiger Aspect); Monarch of the Glen (Ecosse); Ali G-Inda House (Universal); Roughnecks (BBC); In Suspicious Circumstances (Granada); Crime Solver (BBC); and Spongebob (BBC).
The Producer - ALICE DE SOUSA - is multi-award winning writer, producer and actress. She has created over seventy stage productions; played leading roles in some thirty theatre plays; written many highly acclaimed stage and screen scripts; won in 2009 two awards including the Portuguese government's 'Premio de Talento'  in recognition of her 25 year career. In 2005 the American Biographical Institute awarded her with 'Great Women of the 21st Century' and 'Woman of the Year 2005'. (These awards exclusively recognise the impact on society of the work of 1000 prolific women worldwide).
"The Greenwich Playhouse may be small physically, but as the saying goes, good things come in small packages." - British Theatre Guide
Image Gallery
THE CAST
(In Order of Speaking)
LADY CAROLINE  – DARRIE GARDNER
HESTER   – LOUISE TYLER
SIR JOHN – HUGH HEMMINGS
LADY HUNSTANTON   – KATH PERRY
GERALD  – HUGH DARBYSHIRE
MRS. ALLONBY – OLIVIA HILL
MISS STUTFIELD   – NATALIE BARKER
MR. KELVIL – JASON DENYER   
LORD ILLINGWORTH – KEVIN MARCHANT
RACHEL ARBUTHNOT  – MARY LINCOLN
THE CREATIVE TEAM
Scenery Designer – KATIE BELLMAN
Deputy Stage Manager – ELIZABETH BUCKERIDGE
Lighting Designer& Production Photography – ROBERT GOOCH
Costume Designer – ELEANOR WDOWSKI
Production Assistants – ALEKS GORZ; JOSHUA SHENTON
Music Consultant – ALAN DUTHIE
Director – Bruce Jamieson
Producer – Alice de Sousa
PRESS QUOTES:
"As always Galleon has produced a faultless rendering of a theatre classic." - Theatre World Internet Magazine
"Director Bruce Jamieson's well judged, hugely enjoyable solution is to transpose Wilde's expose of a woman who loses her social importance to the fifties - halfway between our permissive age and Wilde's Victorian milieu."  - The Stage
"Wilde's nineteenth century text lends itself surprisingly well to the social climate of the fifties, particularly in relation to the characters' preoccupation with the changing roles of women in society, a topic which almost dominates the cavalier witticisms of most conversations… A clever and relevant relocation from director Bruce Jamieson." - Extra! Extra!
"This production has a classy feel" - What's On Stage.com
"It is testament to Galleon's determined ambition as a theatre company that Wilde's play has been transformed into one of the area's strongest alternatives to Panto this Christmas." - News Shopper
"It is a thought-provoking play, and the Greenwich Playhouse serves it well." - Remotegoat
"The highly professional cast brings in solid performances under the direction of Bruce Jamieson. One thing I am always certain of when going to see a Galleon production is that the characters are spotlessly represented." - Theatre World Internet Magazine
"An impressively cast brings alive Oscar Wilde's dashing wit in a play that goes deeper and darker than his drawing room staples." - The Wharf
"A Woman of No Importance is a visually sumptuous treat." - Kentish Times
"So important in Wilde's plays are his characters as stereotypes of societal norms of the time. And this cast portrays his vision so well." - Theatre World Internet Magazine
"A perfectly executed production, which again proves the Galleon Theatre Company's exceptional ability to deliver larger than life theatre." - News Shopper
"I doubt very few of Wilde's plays have been performed as well as this one at the Greenwich Playhouse" - Greenwich Times