Cousin Basilio 
Performed at the Greenwich Playhouse August 2001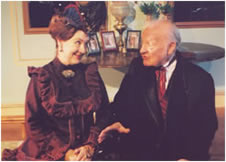 Galleon's production of Alice de Sousa's World Première adaptation of Eça de Queirós' Cousin Basílio, introduced to London's vastly cosmopolitan stage an extraordinary Portuguese novelist, whom Zola described as 'far greater than my own master, Flaubert'.
Cousin Basilio, written in England in 1878, remains one of Eça's most popular and sexually charged of novels. Its characters challenge confinement to their own time and reveal contemporary concerns and psychological complexities.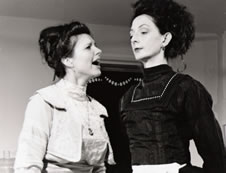 Luisa, Eça's female heroine, is a modern woman who seeks to alleviate the tedium of her empty days with a little passion and excitement. Basilio, her cousin and childhood sweetheart, has arrived in Lisbon for the summer. He loathes the place and is amused by the idea of seducing his cousin. The fact that she's a relative adds a special frisson to what is essentially an affair of convenience. Eça's portrayal of Basilio is more than a mere caricature and his villainy is humanised with a mixture of vanity, boredom and moral vacuity. Like Flaubert, Eça was concerned with revealing the detailed psychological motives behind his character's behaviour. And his extraordinary honesty and directness about the importance of sexual desire is one of this novel's many modern features.
Eça's wonderfully contrived gallery of characters creates a humorous social backgroun to a serious study of nineteenth century sexual politics. Cousin Basilio with its unforgettable characters, compelling plot and elegant prose stands easily alongside the works of Henry James or Proust.
CREDITS
Directed by Bruce Jamieson
Produced by Alice de Sousa
THE CAST
Jorge - Jon House
Luisa - Chella Ferrow
Juliana - Sally Mortemore
Leopardina - Simone Ashton
Julião - Conrad Cecil
Dona Felicidade - Janet Hargreaves
The Councillor - Oliver Bradshaw
Ernestinho - Iain Stuart Dootson
Sebastião - Kevin Marchant
Joanna - Claire Farrington
Basilio - Rupert Fawcett
THE CREATIVE TEAM 
Stage Manager - ELIZABETH BUCKERIDGE
Assist. Designer - ELLEN DUNCAN 
Lighting Designer - ROBERT GOOCH 
Technical Managemer - JAMES HARLOW 
Publicity Designer - ALISON RAYNER
Production Designer - MARTIN J. ROBINSON
REVIEWS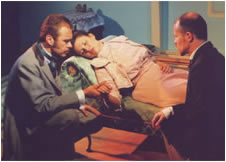 "Alice de Sousa has performed an important role in bringing Queirós work into the 21st century spotlight... an intriguing wake-up call to a Portuguese literary gem"- The Evening Standard
"Alice de Sousa's adaptation is impish and thoroughly enjoyable" - Time Out
"a lushly costumed production for Galleon Theatre is played by an ace 11-strong cast." - What's On
"Director Bruce Jamieson orchestrates some brilliantly sharp social comedy." - South London Press