Crimes of Passion
by Joe Orton 
Performed at the Greenwich Playhouse January 2003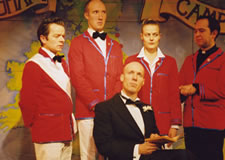 Galleon's first production in 2003 was the first major revival, since the Royal Court's 1967 production, of Joe Orton's 'Crimes of Passion'.
'The Ruffian on the Stair' is a dark and disturbingly violent play. It traces the arrival of a mysterious visitor at Mike and Joyce's flat. The stranger demands a lodging and reveals details of their past which unleashes chaos and murder. 'The Erpingham Camp' is Orton's version of The Bacchae and a modern parable on Pride. It charts with devastating humour and consequences a revolt by Campers against Redcoats at a 1960's British holiday camp.
In 1967 these short plays were originally revised by Orton for the Royal Court and presented as 'Crimes of Passion'. This was also the year that, Joe Orton's lover brutally beat him to death.
CREDITS
Directed by Clare Prenton 
Produced by Alice de Sousa
THE CAST
"The Ruffian on the Stair"
Joyce - Isabel Scott Plummer
Mike - Peter Warnock
Wilson - Louis Tamone

"The Erpingham Camp"
Erpingham - Adam Tabraham
Riley - Vincent Shiels
Lou - Jane Stanton
Ted - Peter Warnock
Eileen - Moira Healy
Kenny - Richard Monk
W.E Harrison - Jonathan Loe
Padre - Jamie Honeybourne
Jessie Mason - Debden Clarke
The Creative Team
STAGE MANAGER - ELIZABETH BUCKERIDGE
LIGHTING DESIGNER - ROBERT GOOCH
COSTUME DESIGNER - SIMON KENNY
ASSISTANT DIRECTOR - MAX KEY
SET DESIGN/CONSTRUCTION - ALEX MARKER
SOUND EFFECTS/MUSIC - PAUL WEIR
STILLS PHOTOGRAPHY - PAUL WELCH 
REVIEWS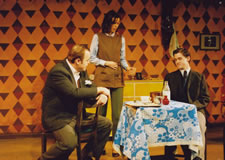 "BEST PLAY" - The Independent
"The Galleon Theatre Company has done a great justice to Orton, his scripts and the spirit of the 60's by bringing them high-kicking, tap-dancing and screaming to Greenwich" -  Leisuretime
"This production for the Galleon Theatre Company, bristles with Orton's trademark distaste for authority and his debunking of religion, sexual misdemeanour and anarchy." - The Evening Standard
"engaging" - Time Out
"So good is it , that the longueurs of sitting through the first play evaporate within the first minute of sitting through the second, and you can't get better than that" - www.indielondon.co.uk
"January is a cold month but this production of Joe Orton's Crimes of Passion by the Greenwich based Galleon Theatre Company left me all fired up. Both plays are produced flawlessly; there is nothing over zealous here and no West End-style malaise  either... Superb" - The Guide