Hamlet
Performed at the Greenwich Playhouse Mayr 2000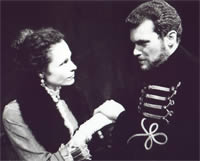 Shakespeare's masterpiece was presented by Galleon Theatre Company as the inaugural production of London's state-of -the-art studio theatre - the Greenwich Playhouse. Galleon Theatre Company's revival was a full scale epic of an unforgettable play which persists to intrigue and fascinate successive generations.
Galleon's exquisite and elegant production was set at the end of the 19th century. A time of invention, wonderment, magical discovery and infinite social and moral contradiction. Galleon's evocative revival was a bold interpretation of the Bard's, most compelling and greatest of dramas.
CREDITS
Director: Bruce Jamieson
Producer: Alice de Sousa
THE CAST
Claudius - Bruce Jamieson
Laertes - Kevin Marchant
Polonious - Oliver Bradshaw
Hamlet - Rupert Fawcett
Gertrude - Barbara Drennan
Horatio - Andrew Sinnott
Ophelia - Nikki Leigh Scott
The Grave Digger and Rosencrantz - Andrew Morris
Osric and Guildenstern - Jack Galagher
The Priest and Player King - Richard Crichton
The Grave Digger and Player Queen - Jacki Simmons
THE CREATIVE TEAM
Costume Designer - Rebecca Chadwick
Set Designers - Lily Elms & Alice Breuillard
Fight Choreography - Richard Burnip
Publicity Designer - Alison Rayner
Stills Photographer - Paul Welch
Reviews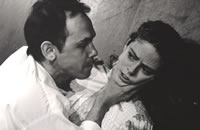 'First, it is good to welcome the Greenwich Playhouse back into the fray, after a considerable absence and struggle with a brewery who wanted to turn this 12 year-old studio theatre into a dormitory for backpackers...
Fortunately, there were no opportunities for dozing off during the opening production by Galleon Theatre Company: a sprightly Hamlet. The director Bruce Jamieson has trimmed down Shakespeare to a taunt two-and-a-half hours. It's quiet sensitively done and it is clean and clear, and carried off well by a strong ensemble'. Financial Times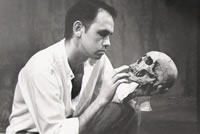 'To celebrate the reopening of what was formerly The Prince Theatre, the Galleon Theatre Company christens this new space with a highly competent and accomplished staging, bolstered further by excellent production values all round. There are great performances by the entire company, which bring credible depth to this production.' - The Stage
'The Galleon Theatre Company has fought its way back to the theatre in the forecourt of Greenwich Station ... Director Bruce Jamieson has turned the original four-hour work into two-and-a-half hours of theatrical magic by crystallising the central story into a 'family' drama that is eminently accessible and utterly absorbing. The director; together with producer Alice de Sousa, have created and inspired work'. - Kentish Times