Hedda Gabler 
Performed at the Greenwich Playhouse January 2001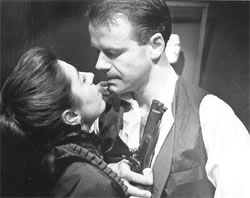 Henrik Ibsen was the the most important theatrical figure of his generation and his plays changed the main current of European dramatic literature. In HEDDA GABLER, Ibsen provides a stirring and complex psychological study of female sexuality through the uncompromising portrait of an exacting woman stifled by a conventional, loveless marriage and the constraints of an uninspiring provincial society. HEDDA GABLER is a compelling dramatic creation of an idealistic but flawed woman who continues to mystify and captivate successive generations.
At the birth of a new Millennium, Ibsen's work stands vigorously the test of time and retains it's undisputed verve and intense theatricality.
Galleon's revival of HEDDA GABLER upheld the company's long sustained reputation for staging theatre of the highest quality which is intelligently presented and always hugely entertaining.
CREDITS
Directed by Bruce Jamieson
Produced by Alice de Sousa
THE CAST
Loevborg - Michael de Burgh
Hedda - Alice de Sousa
Miss Tesman - Jan Hirst
Bertha - Sarah McCullough
George Tesman - Robert Munns
Judge Brack - Richard Rycroft
Mrs Elvsted - Michelle Seaton
THE CREATIVE TEAM
Costume Designer - Rebecca Chadwick
Assis. Costume Designer - Lisa Clark
Set Construction - Barbara Egervary
Stage Manager - Jennifer Farmer
Set Designer - Shanti Freed
Prod. Assistant - Alison Ord
Publicity Designer - Alison Rayner
Lighting Designer - John Treherne
Stills Photographer - Paul Welch
REVIEWS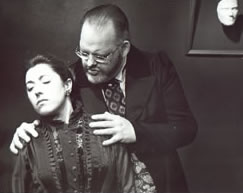 "A fine and elegant production, brimming with passion yet tempered with an admirable lack of indulgence and restraint, as the character of Gabler may well have desired, a raw and beautiful integrity throughout." - The Stage
"The production positively sizzles with sexual tension right up to its inevitable ending, and the cast maintains a pressure cooker atmosphere as the full weight of Victorian values and social rules bear down on them" - Leisuretime