Hedda Gabler
by Henrik Johan Ibsen
Performed at the Greenwich Playhouse November 2007
International acclaimed Galleon Theatre Company were delighted, following very successful productions of 'A Doll's House' (2005) and an earlier staging of 'Hedda Gabler' in 2001, to make a welcome return in November 2007 to the work of Henrik Johan Ibsen (1828-1906), who was undoubtedly the greatest dramatist of his generation.
'The Greenwich Playhouse is an enjoyably ambitious venue and is a solid producer of classics' – Evening Standard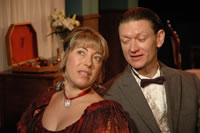 When first written, Hedda Gabler was universally condemned because it irreverently exposed 19th century bourgeois morality. Today it is one of Ibsen's most popular of plays. In Hedda Gabler he offers us his most complex and indomitable of female creations: an intelligent and ambitious woman who has inadvertently constructed her own stifling prison through complicity with bourgeois society and acceptance of a marriage of convenience. Longing for life but yet fearful of scandal, Hedda represses her deepest needs and desires and fails to discover herself or to embrace the full wonderment of human experience.
"My enemies have been a great help to me - their attacks have been so vicious that people come flocking to see what all the shouting was about." – Ibsen
In Hedda Gabler, Ibsen displayed pioneering understanding of women's emotional and physical needs. Although he denied that he was a feminist, his depiction of the exploitation of women, the constrictive life they experienced once married and the psychological and emotional damage this often caused them - confirmed him as an apostle of female causes. However, it was his libertarian preoccupation with humanity in general and his denouncement of all obstacles inhibiting personal freedom that issued a challenge to contemporary morality and affected profound change on European literature and political thought.
"A woman cannot be herself in modern society. It is an exclusively male society, with laws made by men and with prosecutors and judges who assess feminine conduct from a masculine stand point." - Ibsen
In a lovingly produced staging of Ibsen's most celebrated of plays, Galleon Theatre Company expertly fused comedy and pathos through a sexually charged, thought provoking and highly entertaining production of an incomparable play, written by a great pioneer of European theatre.
"This studio-sized venue has been put on the cultural map with productions of epic quality."– South London Press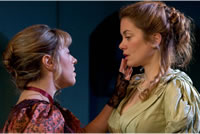 Hedda Gabler boasted creative leadership from a very established, award winning team. It was directed by Bruce Jamieson who has previously directed over twenty Galleon productions and played leading roles in some sixty stage plays; his television and film credits include: Roughnecks (BBC); In Suspicious Circumstances (Granada); Crime Solver (BBC); Ali G-Inda House (Universal); Monarch of the Glen (Ecosse); Spongebob (BBC); Murphy's Law (Tiger Aspect); and the soon to be released feature film The Oxford Murders (with John Hurt & Elijah Wood).
The producer, Alice de Sousa, has created over seventy stage plays; played leading roles in some thirty theatre productions; written many highly acclaimed stage and screen scripts; and in 2005 won the American Biographical Institute's awards of 'Great Women of the 21st Century' and 'Woman of the Year Award 2005'. (These awards exclusively recognise the impact on society of the work of 1000 prolific women worldwide). In 2007, she was short listed for the Portuguese Government's illustrious award 'Prémio de Talento 2006', in recognition of her internationally celebrated writing and theatrical productions of Portuguese literature.
THE CAST
HEDDA GABLER – ALICE DE SOUSA
GEORGE TESMAN – CHRISTOPHER RAIKES
EILERT LOEVBORG – WILLIAM LUDWIG
JUDGE BRACK – BROOKE HENDER
MRS. ELVESTED – JANE STANTON
AUNT JULIANA – DORIS ZAJER
BERTHA – VICKI WELLES
THE CREATIVE TEAM
COSTUME DESIGNER – KATE KENWARD
SCENERY DESIGN/CONSTRUCTION – HILARY STATTS
LIGHTING & PRODUCTION PHOTOGRAPHY – ROBERT GOOCH
DEPUTY STAGE MANAGER – ELIZABETH BUCKERIDGE
SET CONSTRUCTION – LUCY MINYO
PUBLICITY DESIGNER – ALISON RAYNER
STILLS PHOTOGRAPHER – PAUL L.T. WELCH
DIRECTOR – BRUCE JAMIESON
PRODUCER – ALICE DE SOUSA
PRESS QUOTES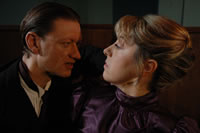 "The intimacy of the Greenwich Playhouse offers the perfect stage for Galleon Theatre Company's production of Hedda Gabler. " – Bexley Extra
"The Greenwich Playhouse perfectly houses the intense drawing room drama of guns, manuscript and money." – indielondon.co.uk
"Galleon have taken Ibsen's 19th century story and created a bold Hedda Gabler for the modern audience." - The Wharf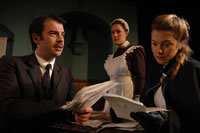 "The cosy space combined with the lighting and November darkness outside give it all a late-Victorian feel. Add the music used effectively and you are reminded of how Ibsen was first performed in small private clubs in London at the end of the 19th century." – uktheatre.net
"Galleon Theatre Company's current staging of Hedda Gabler utilises the Greenwich Playhouse to great effect." - Kentish Times
"There is plenty to think about in this enjoyable production – do go to see it." - uktheatre.net
"The Galleon Theatre Company has created an entertaining version of Hedda Gabler. Each actor is compelling and expertly brings to life each complex strand of Ibsen's searching play." – indielondon.co.uk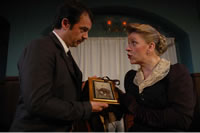 "If you were to take away the sound, the skill of the actors would still allow the audience to know what was going on." - Bexley Extra

"Another ambitious production lands at Greenwich Playhouse this month with the return of Galleon Theatre Company" – The Wharf
"The players were moved around the stage expertly by Bruce Jamieson, who manoeuvred the territories and egos of his characters like a masterful game of chess. Every crevice of space was made use of, and Jamieson's concept allowed for the brilliance of Wilde's narrative to shine, without compromise." - Remotegoat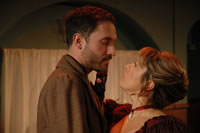 "This is a fitting tribute to Wilde's most popular play. Go and see it and I defy you not to leave with a beaming smile" - Dockland's News