Pygmalion
Performed at the Greenwich Playhouse August 2000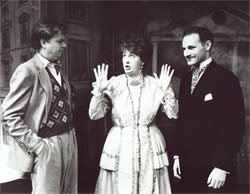 Pygmalion was the third production of Galleon Theatre Company's much acclaimed season which re-opened the Greenwich Playhouse - London's newest state-of-the-art studio theatre.
Pygmalion tells the story of a humble flower girl who asks a phonetics professor to transform her into a lady. The compelling events which unfold, together with the play's raging battle of the sexes, powerful arguments on inequality and a class-riddled society, remain of contemporary social and political relevance.
Shaw's devastatingy witty play continues to move, challenge and greatly entertain.
CREDITS
Director: Bruce Jamieson
Producer: Alice de Sousa
THE CAST
Miss Eynsford-Hill - Abigail Halley
Mrs Eynsford-Hill - Helen M Minassian
Freddy - Nick Cooper
Eliza - Imogen Butler-Cole
Pickering - Andrew Sinnott
Higgins - Jonathan Hansler
Mrs Pearce - Deirdra Whelan
Mrs Higgins - Janet Hargreaves
THE CREATIVE TEAM
Stage Manager - Jennifer Farmer
Lighting Designer - John Treherne
Set Designer - Cleo Pettitts
Costume Designer - Samatha Adams
Properties - Alison Ord
Publicity Designer - Alison Rayner
Stills Photographer - Paul Welch

<
REVIEWS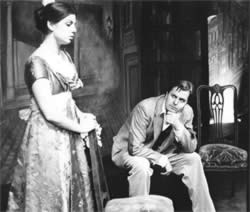 'The Galleon Theatre Company's performance of Bernard Shaw's Pygmalion was a truly captivating experience. The production is srnsitive in that as the lights of the final scene dip, we as an audience are not left with clear feelings about who was right and who was wrong; motivations are complex and often contradictory. This production is a must-see for theatre-goers.' - The Mercury
'The intimate atmosphere of the Greenwich Playhouse is perfect for this absorbing production, rich in humour and entertainment value.' - Kentish Times
'Producer Alice de Sousa and director Bruce Jamieson take no risks with their faithful period setting and the show does remain enjoyable and utterly charming.' - The Stage
'This production rescues Shaw from his reputation as a man of ideas who deals in cardboard cut-out characters. That in itself is quiet an achievement.' - What's On In London