Richard III 
Performed at the Greenwich Playhouse October 2000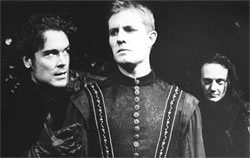 Galleon Theatre Company's production of Richard III upheld the company's long established reputation for staging the classics with the highest of production values.
Through a bold and new adaptation, Galleon's tempestuous production drew on Renaissance staging principles to provide fluidity and clarity and highlighted Shakespeare's most rich and colourful language. The result was a thrilling experience which was incisively witty and blazingly theatrical.
In Richard III, Shakespeare traces a man's audacious and corrupt journey of death to England's throne. In its revival, Galleon Theatre Company presented less of a history lesson and more of a tour de force of evil!
CREDITS
Directed by Stephen Wisker 
Produced by Alice de Sousa
THE CAST
Richard - Tom Rushforth
King Edward IV - Nicolas Gasson
Earl of Richmond and The Duke of Clarence - Jonathan McGrath
The Duchess of York - Christine Eyre
Queen Elizabeth - Cathy Walker
Lord Grey - Richard Morrison
The Marquess Dorset - Dominic Cummins
Bishop Ely, Lord Rivers and Sir Brakenbury- Sam Gordon
Queen Margaret - Janet Amsden
Lady Anne - Maya Gabrielle
Sir Tyrrel and Lord Hastings - Douglas Henderson
Lord Stanley - Graham Elwell
The Duke of Buckingham - Martin Jenkins
Sir William Catesby - Charlie Watts
The Creative Team
Stage Manager - Jennifer Farmer
Lighting Designer - John Treherne
Set Designer - Cleo Pettitts
Costume Designer - Samatha Adams
Properties - Alison Ord
Publicity Designer - Alison Rayner
Stills Photographer - Paul Welch
REVIEWS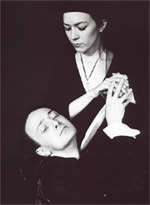 'The Galleon Theatre Company has further enhanced its reputation with a new production of Shakespeare's Richard III, and this is a production with no weaknesses.' - Kentish Times
'But this is a notable production all-round' - THE STAGE
'I don't think I have ever seen grief and hatred mixed so brilliantly or to greater effect in my life ... This production you will have gathered is a brilliant success.' - Borough News