Shadows on the Sun 
Performed at the Greenwich Playhouse October 2001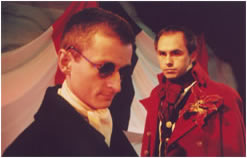 Galleon Theatre Company's World Première production of Shadows on the Sun, by the multi award winning writer Barrie Keeffe, was set in Paris in the summer of 1794. Barrie Keeffe is an internationally acclaimed playwright whose work has been performed in over twenty countries. He has won several awards for his plays including the Paris Critic's Prix Révélation; a Giles Cooper Award for Best Radio Play; a Thames Television Playwrighting Award; The Mystery Writers of America Edgar Allan Poe Award; and for the screen script of The Long Good Friday. Shadows on the Sun was Barrie Keeffe's first stage play for ten years.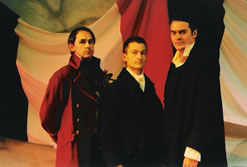 Shadows on the Sun is an epic play. It traces the events which led to Danton's death and concludes with the guillotine execution of Robespierre. It provides an alternative to Buchner's Danton's Death and highlights the differences between the charismatic, womanising Danton and the obscure, apparently dull provincial lawyer Robespierre who secured Danton's death 'to save the Revolution' and in so doing unleashed the 'reign of terror'. 

To Carlyle, Robespierre was the 'Sea-Green Incorruptable'. To George Sand the greatest man in recorded history. Lord Acton called him 'the most hateful character in the forefront of history since Machiavelli'. To Victor Hugo he was the 'algebra of Le Grand Révolution'. To Napoleon - its great scapegoat. To Keeffe a complex, flawed, sometimes ruthless but touchingly humane man.
CREDITS
Directed by Bruce Jamieson
Produced by Alice de Sousa
THE CAST
MAXIMILIEN ROBESPIERRE - NICHOLAS DEAL
DANTON, HUNCHBACK, DOCTOR - ADEN CARDY-BROWN
ST. JUST - RUPERT FAWCETT
DAVID - ANTONY LAW
ELEN, WHORE, CECILE - NIKKI LEIGH SCOTT
BARERE - JON HOUSE
CHARLOTTE, MADAME THEOT - OLIVIA FOX
THE EXECUTIONER, FOUCHE - MARK HOLLOWAY
HIS ASSISTANT, VADIER - IAIN DOOTSON
THE CORPSE, COUTHON - STEVEN DIGGORY
D'HERBOIS, SOLDIER - GRAHAM MORRIS-ALMOND
VARENNE, SOLDIER - NATHAN RIMELL
THE CREATIVE TEAM
STAGE MANAGEMER - ELIZABETH BUCKERIDGE
FIGHT CHOREOGRAPHER - PHILIP D'ORLÉANS
ASSIST. DESIGNER - ELLEN DUNCAN
LIGHTING DESIGNER - ROBERT GOOCH
PUBLICITY DESIGNER - ALISON RAYNER
PRODUCTION DESIGNER - MARTIN J. ROBINSON
STILLS PHOTOGRAPHER - PAUL WELCH
PRODUCTION ASSISTANT - CHRISTOPHER YOUNG
REVIEWS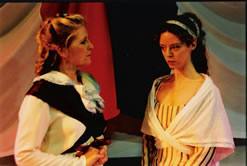 "totally riveting" - Time Out
"superb" - What's On
"an enjoyable anatomy of power" - Evening Standard
"Bruce Jamieson's directing of Galleon Theatre Company is stronger than ever"  - South London Press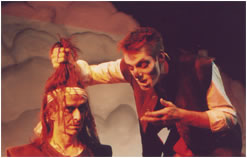 "I am left with a conviction that Barrie Keeffe's Shadows on the Sun may come to be recognised as one of the truly great plays of the 21st Century" - Kentish Times