Thankfully there is Moonlight! 
By Sttau Monteiro
Adapted, translated & produced by Alice de Sousa
Directed by Bruce Jamieson
Performed at the Greenwich Playhouse February - March 2007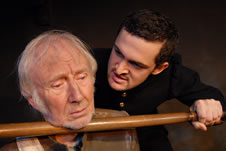 Galleon Theatre Company, with the support of the Calouste Gulbenkian Foundation, presented Alice de Sousa's World Première translation/adaptation of Sttau Monteiro's controversial play Thankfully there is Moonlight! and thus continued its internationally acclaimed work in introducing unfairly neglected European writers to London theatre audiences.
"The Greenwich Playhouse is an enjoyably ambitious venue that is a solid producer of classics" – Evening Standard
Sttau Monteiro (1926-1993) was one of Portugal's greatest 20th Century playwrights and Thankfully there is Moonlight!, written in 1961, is regarded as his finest theatrical achievement. Although initially published and distributed in a secret and clandestine manner; as it had been banned by Portugal's Fascist regime (1926-1974) one of the longest surviving European dictatorships; it nevertheless succeeded in securing international acclaim. The play's status and writer's reputation were further unwittingly enhanced by the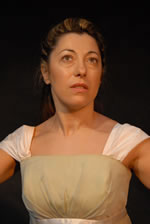 PIDE's (Portugal's secret police) imprisonment of Sttau Monteiro in one of the country's notorious concentration camps. Thankfully there is Moonlight! was considered so controversial that it did not receive its Portuguese premier until 1978, some four years after democracy had been established, when nearly 16,000 people enthusiastically rushed to see the first national production of this extremely powerful and provocative play.
"This studio-sized venue has been put on the cultural map with productions of epic quality." – South London Press
In Thankfully there is Moonlight! Sttau Monteiro issues an acerbic and universally relevant criticism of a society founded on political oppression and social inequality. Set in 1817 and based on entirely true events, Sttau Monteiro creates an allegory through which he is able to denounce the brutal political repression and crippling poverty of his own time. At the heart of his uncompromising play there is the remarkable story of woman's attempts to save her lover,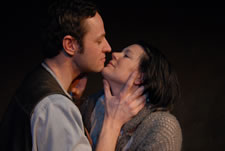 General Gomes Freire de Andrade, from execution by a corrupt government, church and military (led by Marshall William Carr Beresford).
Thankfully there is Moonlight! is an epic tale of courage and love against insurmountable odds.
"Something must be said for the Greenwich Playhouse, it is remarkably refreshing to come across a theatre of such a high standard – one that exudes class." 
– indielondon.co.uk
G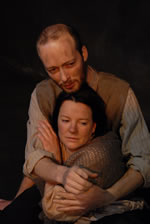 alleon Theatre Company's World Premiere translation of Thankfully there is Moonlight! was directed by critically acclaimed actor/director Bruce Jamieson who has previously directed over twenty Galleon productions and played leading roles in some sixty stage plays; his television and film credits include: Roughnecks (BBC); In Suspicious Circumstances (Granada); Crime Solver (BBC); Ali G-Inda House (Universal); Monarch of the Glen (Ecosse); Spongebob (BBC); Murphy's Law (Tiger Aspect); and Sgt. Keisler in the feature film The Oxford Murders (with John Hurt & Elijah Wood). (To be released Nov. 2007)
"Under Alice de Sousa, the Greenwich Playhouse is London's leading exponent of Portuguese culture" - Time Out
Thankfully there is Moonlight! was adapted, translated and produced byAlice de Sousa who has produced over seventy stage plays; played leading roles in some thirty theatre productions; written many highly acclaimed plays; and in 2005 won the American Biographical Institute's awards of 'Great Women of the 21st Century' and 'Woman of the Year Award 2005'. (These awards recognise the impact on society of the work of 1000 prolific women throughout the world). In 2007, she was nominated by the Portuguese Government for the illustrious award 'Prémio de Talento 2006', awarded by the Gabinete de Estado das Communidades Portuguesas'.
THE CAST
RITA - Heather Cairns 
MATILDE - Alice de Sousa 
VICENTE - Andy Dowbiggin 
CARDINAL SOUSA - Rufus Graham 
THE OLD SOLDIER - Hugh Hemmings 
DOM MIGUEL - Brooke Hender 
BERESFORD - Michael Hucks 
PINTO - James Lawne 
FALCÃO - Samuel Lewis
MANUEL - Robert Paul
CORVO - Christopher Raikes 
THE POLICEMAN - Damien Warren-Smith 

THE CREATIVE TEAM
Production Designer - Rachel Baynton 
Deputy Stage Manager - Elizabeth Buckeridge 
Lighting Designer & Technical Management - Robert Gooch 
Assistant Stage Manager - Agnieszka Flak 
Choreographer - Amanda Ling 
Production Assistants - Leanne Curtis; I-an Chen; Matina Lysikatou & Wei-Teng Huang 
Stills Photographer - Paul L.T. Welch 
Additional Production Photography - Robert Gooch
Directed by Bruce Jamieson
Adapted/Translated & Produced by Alice de Sousa
Press Quotes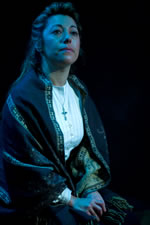 "In an eloquent and taut English translation by Alice de Sousa, directed by Bruce Jamieson, Thankfully there is Moonlight! marks a welcome return to the satisfying quality that has established Galleon's reputation as exponent of wrongly neglected classics. – The Stage
"a potent historical document" – Time Out
"The play was well-attended the night I went to see it and it was well-attended because word has got round that this is a very good play. A play packed with emotion. Who knows when next this country will see work by Sttau Monteiro – get along to see this quality drama at the Greenwich Playhouse before it ends."- uktheatre.net
"Thankfully there is Moonlight! is powerful story of human faith, courage and loyalty, and it is really worth seeing." – The Wharf
"The Superb characterisations" – Kentish Times
"a powerful play, written out of anger and despair." – Time Out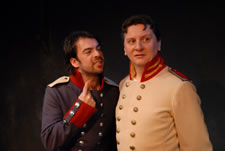 "This production by Galleon Theatre Company laid bare all the qualities of human life. The play contrasts hope with despair and helplessness with power, creating a strong range of characters. This gripping story is a true gem." – Newsshopper
"Here credit must be due to the director, Bruce Jamieson, for fleshing out who these people are. What is also of particularly high quality is the dialogue – Alice de Sousa, the adaptor, has produced a seamless translation and in doing so brings out a mordant wit. It would be unfair to single out actors, particularly in a cast of 12, so I will only say that the quality is of a standard far higher than you usually get on the fringe." – uktheatre.net
"This gripping story is a true gem." – Newsshopper
"It is easy to see why Thankfully there is Moonlight! caused such an uproar when it was first published. This new translation by Alice de Sousa has lost none of its potency." – The Wharf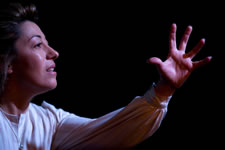 "Andy Dowbiggin, Rufus Graham, Michael Hucks and Alice de Sousa give stand-out performances in an excellent cast" – Kentish Times
"This is certainly a quality play with strong performances from the very talented cast." 
– indielondon.com
"The Greenwich Playhouse is perfect for productions of this kind. Bruce Jamieson delivers high emotional impact per square-inch, achieved through a mastery of light and sound." 
– musicomh.com
"Galleon Theatre and Greenwich Playhouse are to be commended for resurrecting this largely overlooked classic of Portuguese theatre. This is an ambitious production offers themes that are as relevant to today's world as they were to the playwright's own in 1961, when it was written." 
– extra.extra.com
"Powerful drama" – Kentish Times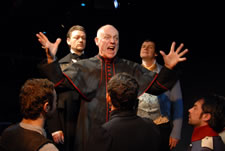 "If you like your theatre thought provoking and with strong topics, you will enjoy Thankfully There is Moonlight." - indielondon.com
"It seems unfair to choose from such engrossing performances – this is a strong cast – but the role of Matilde, played by de Sousa herself, lingers long in the mind." - musicomh.com
"brilliant" – Kentish Times