The Cherry Orchard
Was staged at the Greenwich Playhouse between the 30th March and 25th April 2010.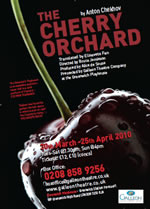 In 2010, the internationally acclaimed Galleon Theatre Company celebrated two decades of staging exceptional theatre; the Greenwich Playhouse enjoyed the 15th anniversary of its inception; and it was 150 years since the birthday of Anton Chekhov.
To mark this triple celebration, Galleon presented Chekhov's last play - The Cherry Orchard.
'The Greenwich Playhouse is an enjoyably ambitious venue and is a solid producer of classics' – Evening Standard
Anton Chekhov (1860-1904) was born in Russia and came to be regarded as one of its most celebrated of writers. Few playwrights have had a more remarkable impact on theatre and his five full length plays have undisputedly secured his place alongside the world's greatest dramatists. Chekhov also wrote farces, comic sketches, one-act plays, made regular contributions as a journalist and is further considered to be an excellent short story writer.
Chekhov qualified as a doctor in 1884 and always viewed this as his main profession; however he prospered little by it, as he frequently treated the poor free of charge. He said: 'Medicine is my lawful wife and literature my mistress'.
In 1887, a theatre manager commissioned Chekhov to write a play. The result was Ivanov, which was written in a fortnight and staged in November of the same year. Although the play was a success and praised as a work of great originality, Chekhov did not enjoy the initial experience of writing for the stage; and after the disastrous opening night of The Seagull in 1896 (successfully revived in 1898 by Stanislavski), he renounced the theatre. Nevertheless, the stage and his life were permanently intertwined and three more plays were to follow and seal his reputation: Uncle Vanya, published in 1899 and performed in 1900; Three Sisters, written 1900 and first produced in 1901; and The Cherry Orchard, his final play premièred at the Moscow Art Theatre on the 17th January 1904; and all under the direction of Stanislavski.
"This studio-sized venue has been put on the cultural map with productions of epic quality." – South London Press
The Cherry Orchard is Chekhov's most autobiographical play. It echoes the author's own financial and domestic troubles, resembles Chekhov's love of the land and his passion for his own cherry orchard - which after returning from Yalta where he had gone due to ill heath, he was devastated to find cut down by its new owner.
The Cherry Orchard shares familiar social and political themes with the writer's earlier plays but above all it is pertinent to contemporary environmental issues because its concern with industrial deforestation. This has led to Chekhov being regarded as one of Europe's first significant ecological writers.
"Forests keep disappearing, rivers dry up, wild life's become extinct, the climate's ruined and the land grows poorer and uglier every day'.  - Uncle Vanya
The Cherry Orchard was creatively spearheaded by a very experienced and award winning team.
The Director - BRUCE JAMIESON has previously directed thirty highly successful Galleon theatre productions and played leading roles in some sixty stage plays. As an actor, his television and film credits also include The Oxford Murders (Tornasol); Murphy's Law (Tiger Aspect); Monarch of the Glen (Ecosse); Ali G-Inda House (Universal); Roughnecks (BBC); In Suspicious Circumstances (Granada); Crime Solver (BBC); and Spongebob (BBC). He is the co-founder of the Greenwich Playhouse, Galleon Theatre Company and Galleon Films.  
The Producer is multi-award winner ALICE DE SOUSA who in 2009 won two prestigious international awards, including the Portuguese government's 'Premio de Talento' in recognition of her 25 year career in the theatre. She has created over seventy stage productions; played leading roles in some thirty theatre plays; and written many highly acclaimed stage and screen scripts. In 2005 the American Biographical Institute awarded her with 'Great Women of the 21st Century' and 'Woman of the Year 2005'. (These awards exclusively recognise the impact on society of the work of 1000 prolific women worldwide).
The translation by ELISAVETA FEN still stands as one of the very best because of its poetical use of the English language, its judicious sense of period, and formidable ability to create for the reader and audience a rich and complex sense of Russia at the beginning of the twentieth century. Significantly, it also avoids the tendency, often found in contemporary translations, to forcibly Anglicize and modernise Chekhov's painstakingly drawn world.
The dazzling design team included: Scenery and Props Designer - Sara Gianfrate; Lighting Designer - Robert Gooch; and Costume Designer - Eleanor Wdowski.
Image Gallery
THE CAST
(In Order of Speaking)
DOONIASHA - FLEUR SHEPHERD
LOPAKHIN  - ROBERT PAUL
YEPIHODOV  - NICHOLAS KARPENKO
ANIA  - CLARE MCMAHON
RANYEVSKAIA   - MAGGIE DANIELS
GAYEV - JASON DENYER
CHARLOTTA  - TARA HART
PISHCHIK - RICHARD UNWIN
VARIA  - SUZANNE GOLDBERG
YASHA  - ASHLEY DAVID
FEERS  - HUGH HEMMINGS
TROFIMOV  - NIK DRAKE
THE CREATIVE TEAM
COSTUME DESIGN/CONSTRUCTION  - ELEANOR WDOWSKI
SCENERY DESIGN/CONSTRUCTION  - SARA GIANFRATE
LIGHTING & SOUND EDITING - ROBERT GOOCH
DEPUTY STAGE MANAGER  - ELIZABETH BUCKERIDGE
CHOREOGRAPHY  - AMANDA LING
STILLS PHOTOGRAPHER  - PAUL L.T. WELCH
PRODUCTION PHOTOGRAPHY  - ROBERT GOOCH
PRODUCTION ASSISTANTS  - BEN PAVEY; DELVINA MCKINSON; KAY SAYER; JO ANDERSEN; VIVIEN ABENDORFF
DIRECTOR – BRUCE JAMIESON
PRODUCER – ALICE DE SOUSA
PRESS QUOTES:
"2010 is a big year: the Greenwich Playhouse turns fifteen, the Galleon Theatre Company turns twenty and it is 150 years since Anton Chekhov was born. What better way to celebrate this triad of anniversaries than in this glorious staging of The Cherry Orchard? "- British Theatre Guide
"The Greenwich Playhouse has a lot to celebrate this year, and it has popped the bubbly in style, with this truly superb production." -  Remotegoat ****
"Greenwich Playhouse is known for successfully pulling off some epic plays in the past and its latest offering is no exception." - Kentish Times
"Eleanor Wdowski's distinctive and detailed costumes only serve to emphasise the quality of this powerful production." - The Stage
"Jamieson brings out the many comic aspects of the piece; much laughter arises from wonderful comic business with some rather squeaky shoes and a dog on wheels."  - British Theatre Guide
"Bruce Jamieson does something very special with this production." - Remotegoat ****
"A cast of 12 took to the stage and gave polished performances in a play that must be difficult to pull off as a comedy and tragedy" - Kentish Times
"Bruce Jamieson's direction ensures that no matter which seat you sit in, you will receive a grand performance." - British Theatre Guide
"There were some fine performances in the cast, but even more impressive was the strength of the cast as an ensemble, with scenes moving effortlessly into each other as the actors carried the audience on their sleeves."  - Remotegoat ****
"Recreating a lavish Russian cherry orchard is a challenge that the Galleon Theatre Company rises to, utilising a combination of imagination and suggestion." - The Stage
"The Greenwich Playhouse may be small physically, but as the saying goes, good things come in small packages." - British Theatre Guide
"Set designer Sara Gianfrate proves that less really is more in this visually attractive production; whilst Eleanor Wdowski, costume designer, decorates the actors in beautiful period costume that enhance the wealth and status of the characters." -  Remotegoat ****
"The close proximity of the actor/audience relationship means that every facial expression can be enjoyed and nothing of the actor's craft is lost in this slick production." - British Theatre Guide
"This rare production manages to explore the hard hitting moral issues whilst delicately exploring the deeper sorrow of a family who, in despair, foolishly ignore their own financial woes." - Remotegoat ****