The Heiress of the Cane Fields 
Novel by Julio Dinis.
Adapted by Alice de Sousa 
Performed at the Greenwich Playhouse April 2005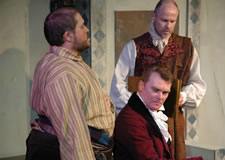 Alice de Sousa's world première adaptation of 'The Heiress of the Cane Fields' was staged at the Greenwich Playhouse between the 5th April and the 1st May 2005 with the support of the Calouste Gulbenkian Foundation.
"Alice de Sousa, is London's leading exponent of Portuguese culture'. 
Time Out
'The Heiress of the Cane Fields' introduced to London's cosmopolitan audiences the writing of neglected European literary master - Julio Dinis. Occassionally described as 'Portugal's Dickens', Dinis was the founding father of the Portuguese romantic novel.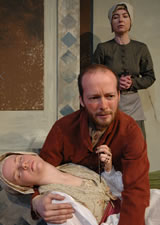 'The Heiress of the Cane Fields' lovingly traces the impact of merciless but necessary 19th century progress on an apparently idyllic rural community. Lives are lost, wealth is created, industrialisation assured, the weak sacrificed and a precious way of life lost forever. In his epic novel Julio Dinis is inspired by a rural and fast changing world and this is shown to be as difficult as it is healing and wholesome. In her play, and through rich characterisation, powerful dramatic drive and incisive humour, Alice de Sousa creates a heart rending depiction of humanity in all its magnificence and foibles.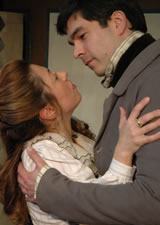 'The Heiress of the Cane Fields' was staged by the internationally acclaimed Galleon Theatre Company; directed by: BRUCE JAMIESON has directed over twenty Galleon productions and acted some sixty stage plays. Television and film work includes: Roughnecks (BBC); In Suspicious Circumstances (Granada); Crime Solver (BBC); Ali G-Inda House (Universal); Monarch of the Glen (Ecosse); Spongebob (BBC); and Murphy's Law (Tiger Aspect); and adapted and produced by: ALICE DE SOUSA who has produced over sixty stage plays; played leading roles in some thirty theatre productions; written several acclaimed theatre scripts; and was awarded by the American Biographical Institute, the distinction of 'Great Women of the 21st Century' and nominated for the 'Woman of the Year Award 2005'. These awards recognise the impact on society of the work of 1000 prolific women throughout the world.
CREDITS
Director – Bruce Jamieson
Adapted & Produced by Alice de Sousa
THE CAST
Dona Doroteia – Jan Hirst
Henrique de Sousellas – Guiliano Crispini
Damião do Canada – Adam Robert Brody
Zé Pereira – Robert Paul
Zéfa – Nina Reizi
Eugénio Seabra – Kevin Marchant
João das Perdizes – Christopher Hale
Augusto – Paul Hessey
Dona Madalena – Alice de Sousa
Dona Vitória – Fiona Terry 
Cristina – Clare Harlow
Ermelinda – Audrey McCoy
Angelo – Charley Vincent
Vicente – Al Fiorentini
The Councillor – Bruce Jamieson
The Creative Team
Deputy Stage Manager – Elizabeth Buckeridge
Scenery & Props Designer – Anna Calligaro
Costume Designer – Richard Cooke
Lighting Designer – Robert Gooch
Assistant Set Designer - Andrea Harper 
Scenery construction - Julien Nimis
Publicity Design – Alison Rayner
Stills Photographer – Paul L.T. Welch
Costume Makers - Jane Betton-Turner; Maija Ross; Malin Person
REVIEWS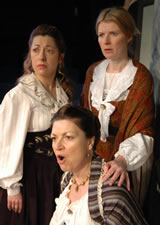 "Alice de Sousa has clearly done her work well. Some 15 characters are established with speed and clarity". – Evening Standard
"Alice de Sousa's hugely enjoyable adaptation of this tragicomic novel builds on her well-established reputation for communicating the greatness of Portuguese literature that deserves to be more widely known." – The Stage
"The Greenwich Playhouse never fails to present quality productions and I would argue that The Heiress of the Cane Fields is indeed one of their best yet!" - indielondon.co.uk
"Dazzling" – The Times