The Importance of Being Earnest
Was staged at the Greenwich Playhouse between the 15th December 2009 and the 17th January 2010.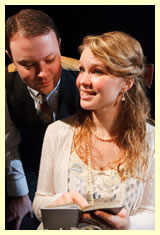 Galleon Theatre Company were delighted to present a sell out and critically acclaimed, joyous seasonal celebration of Oscar Wilde's devastatingly funny and enduring play The Importance of Being Earnest.
Wilde's hilarious comedy of two men whose lives deliciously unravel when they fall in love with two witty women with a partiality for the name 'Ernest', is set in the early 1930's, at Christmas and to the exciting sounds, fashions and dances of the period.
Galleon's lovingly realised production provides a highly entertaining and blazingly theatrical celebration of one of Britain's most renowned playwrights and of his celebrated and timeless play.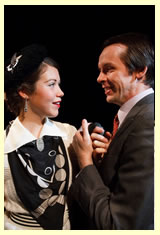 Oscar Wilde (1854-1900) was an Anglo-Irish playwright, poet and author of numerous short stories and one novel. Known for his incisive wit, Wilde was one of the most successful playwrights of the late Victorian era and one of its brightest "celebrities". Drama and tragedy marred his private life. He married Constance Lloyd in 1884 and they had two sons; but in 1891 Wilde began a love affair with Lord Alfred Douglas, nicknamed 'Bosie'.
"Never speak disrespectfully of Society, Algernon. Only people who can't get into it do that."
- Lady Bracknell,The Importance of Being Earnest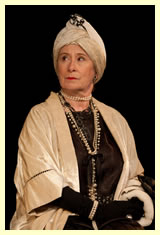 It was during the successful opening night of The Importance of Being Earnest that the destruction of Wilde's career and reputation was cruelly instigated. The Marquis of Queensberry, father of Wilde's lover Lord Alfred Douglas, attempted to enter the theatre, intending to throw vegetables at the playwright when he took his bow at the end of the show. Wilde was tipped off and Queensberry was refused admission.
Queensberry's unrelenting hostility to Wilde was to trigger the latter's ill advised pursuit of legal action which resulted in the annihilation of his career and in him being sentenced to two years of hard labour.
Wilde's notoriety was also to cause The Importance of Being Earnest, despite its success, to close after only 83 performances. He never wrote again for the stage.
"I do not approve of anything that tampers with natural ignorance. Ignorance is like a delicate, exotic fruit. Touch it, and the bloom is gone. The whole theory of modern education is radically unsound. Fortunately in England, at any rate, education produces no effect whatsoever."
- Lady Bracknell, The Importance of Being Earnest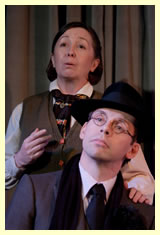 The Importance of Being Earnest was creatively spearheaded by a very experienced and award winning team.
The director: BRUCE JAMIESON has previously directed over twenty highly successful Galleon theatre productions and played leading roles in some sixty stage plays. As an actor, his television and film credits include The Oxford Murders; Murphy's Law (Tiger Aspect); Monarch of the Glen (Ecosse); Ali G-Inda House (Universal); Roughnecks (BBC); In Suspicious Circumstances (Granada); Crime Solver (BBC); and Spongebob (BBC). He is the co-founder of the Greenwich Playhouse, Galleon Theatre Company and Galleon Films.
The producer: is multi-award winner ALICE DE SOUSA who has in 2009 won two prestigious international awards, including the Portuguese government's 'Premio de Talento' in recognition of her 25 year career. She has created over seventy stage productions; played leading roles in some thirty theatre plays; and written many highly acclaimed stage and screen scripts. In 2005 the American Biographical Institute awarded her with 'Great Women of the 21st Century' and 'Woman of the Year 2005'. (These awards exclusively recognise the impact on society of the work of 1000 prolific women worldwide).
THE CAST
(In Order of Speaking)
ALGERNON MONCRIEFF – RICHARD UNWIN
JOHN WORTHING – MILES EAGLING
LADY BRACKNELL – KATH PERRY
GWENDOLEN FAIRFAX – KIRSTEN HAZEL SMITH
MISS PRISM – MAGGIE DANIELS
CECILY CARDEW – LAURA DARRALL
CANON CHASUBLE – BARRIE WILMORE
THE CREATIVE TEAM
Costume Designer – Richard Cooke
Scenery/Props Designer – Sarah Ashpole
Lighting & Sound Editing – Robert Gooch
Deputy Stage Manager – Elizabeth Buckeridge
Choreography – Amanda Ling
Stills Photographer – Paul L.T. Welch
Production Photography – Robert Gooch
Director – Bruce Jamieson
Producer – Alice de Sousa

PRESS QUOTES: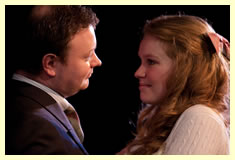 "RARELY have I left a theatre happier than I left the Greenwich Playhouse. The Importance of Being Earnest is great fun from start to dancing finish." - Dockland's News (4 Star Review)


"The Greenwich Playhouse really is producing the very best theatre in London."- Remotegoat 5 Star Review)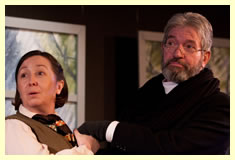 "The Galleon Theatre Company's production at Greenwich Playhouse proves the comic play has lost none of its edge and is just as hilarious today as it was more than a century ago. " - News Shopper (5 Star Review)
"With material as brilliant as this, it's quite difficult to produce a really terrible Earnest and in the capable hands of Galleon Theatre Company's fine cast, that's hardly likely to happen." - The Stage
"Oscar Wilde's delightful script is laden with witticisms, clever observations and delicious farce. And this production does it justice, thanks to superb direction and quite brilliant performances." - Dockland's News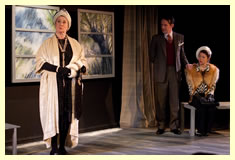 "The players were moved around the stage expertly by Bruce Jamieson, who manoeuvred the territories and egos of his characters like a masterful game of chess. Every crevice of space was made use of, and Jamieson's concept allowed for the brilliance of Wilde's narrative to shine, without compromise." - Remotegoat
"This is a fitting tribute to Wilde's most popular play. Go and see it and I defy you not to leave with a beaming smile" - Dockland's News