The Maias
by Eça de Queirós.
Adapted for the stage by Alice de Sousa 
Performed at the Greenwich Playhouse September 2002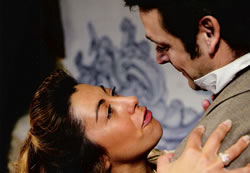 Following its hugely critically Première of Cousin Basílio in 2001, Galleon staged the with the support of the Calouste Gulbenkian Foundation, WORLD PREMIÈRE of Alice de Sousa's adaptation of Eça de Queirós' obra-prima - The Maias. Eça de Queirós was the Portuguese master of the 19th century novel. He was a remarkable writer who wrote extensively and whom Zola described as 'far greater than my own master, Flaubert'.
"On the basis of at least half a dozen books Eça ought to be up there with Dickens, Balzac and Tolstoy as one of the 19th century's talismanic names" - The Observer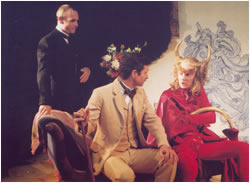 The Maias, was written over a period of eight years and is set against a backdrop of a fast changing 19th century Portuguese society. Published in 1888, it traces the decline in a wealthy, land owning family and the incestuous romance between a brother and sister, who are unaware of their blood relationship. In The Maias, Eça creates a strong sense of human decay which is cultural, political and moral. Eça is forceful in his satire and piercing in his social criticism but is always tempered by a lightness of tone and a warm sympathy for human frailty. Eça's work is boundless in its enjoyment of daily life, rich in characterisation and fantastic in its social comedy.
CREDITS
Directed by Bruce Jamieson
Adapted and Produced by Alice de Sousa
THE CAST
Carlos da Maia - Jason Courtis
Craft - Jason Denyer
Maria Eduarda - Alice de Sousa
Countess de Gouvarinho - Kate Headworth
Alencar - Barry Latchford
João Ega - Thomas Rushforth
Damaso Salcêde - Daniel Sung
Vilaça - David Vaughan Knight
Miss Sarah - Deirdra Whelan
THE CREATIVE TEAM 
SET DESIGNER - CHRYSTINE BENNETT
STAGE MANAGER - ELIZABETH BUCKERIDGE
LIGHTING DESIGNER - ROBERT GOOCH
PUBLICITY DESIGNER - ALISON RAYNER
COSTUMES DESIGNER - KAREN WEBBER
STILLS PHOTOGRAPHER - PAUL WELCH
REVIEWS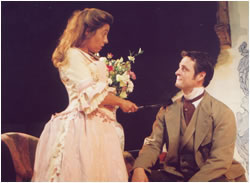 "The Maias, is further proof of the niche the Greenwich Playhouse is carving out for itself as an enjoyably ambitious venue that is an increasingly solid producer of classics" - Evening Standard
"de Queirós may be unfamiliar to English readers, but this show brings him to a wider audience with panache." - Time Out
"beautifully realised" - What's On In London
"The Maias, generates superb theatre with a powerful mix of drama, humour and satire" - Kentish Times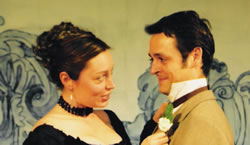 "This play is assured and captivating from the outset." - The Stage
"This excellent play, turned into an evening that was never to be forgotten and must be ranked at least as first rate... The job that Alice de Sousa has done is monumental" - IndieLondon.co.uk