The Merchant of Venice
by William Shakespeare
 Performed at the Greenwich Playhouse February 2008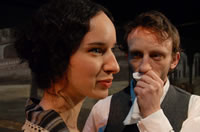 International acclaimed Galleon Theatre Company was pleased, following a successful and sell-out production of 'King Lear' in 2004, to return in February 2008 to the works of William Shakespeare.
The Merchant of Venice is charmingly romantic and provocatively entwined with the dark foibles of human behaviour. In his magnificently enduring play, Shakespeare presents us with psychologically complex characters that are capable of charm, generosity of spirit and reprehensible callousness. He speaks to us across the centuries in a modern voice to make us reflect on the contemporary social problems of religious and racial hatred, greed, revenge; and on the ever healing potency of love.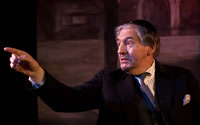 Shakespeare's pertinent and greatly esteemed classic was lovingly staged by Galleon Theatre Company at the Greenwich Playhouse, as an emotionally charged, highly entertaining and beautifully stylish production. 
"This studio-sized venue has been put on the cultural map with productions of epic quality." – South London Press
The Merchant of Venice is creatively spearheaded by a very established, critically acclaimed and award winning team.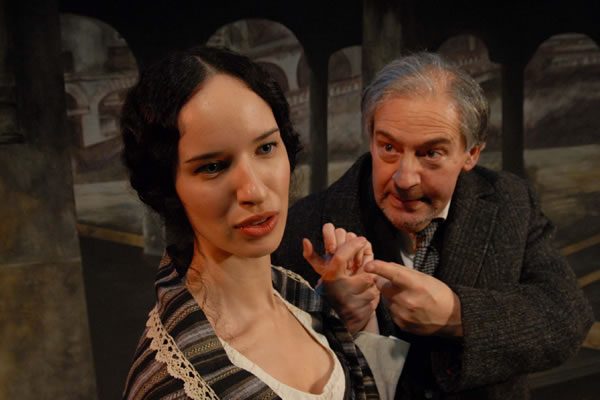 The director is BRUCE JAMIESON who has previously directed over twenty Galleon productions and played leading roles in some sixty stage plays. As an actor, his television and film credits include the soon to be released feature film The Oxford Murders (with John Hurt & Elijah Wood); Murphy's Law (Tiger Aspect); Monarch of the Glen (Ecosse); Ali G-Inda House (Universal); Roughnecks (BBC); In Suspicious Circumstances (Granada); Crime Solver (BBC); and Spongebob (BBC).
 The producer is ALICE DE SOUSA who has created over seventy stage productions; played leading roles in some thirty theatre plays; written many highly acclaimed stage and screen scripts; won in 2005 the American Biographical Institute's awards - 'Great Women of the 21st Century' and 'Woman of the Year 2005'. (These awards exclusively recognise the impact on society of the work of 1000 prolific women worldwide). In 2007, she was short listed for the Portuguese Government's illustrious award 'Prémio de Talento 2006', in recognition of her internationally celebrated writing and theatrical productions of Portuguese literature.
THE CAST
(In Order of Speaking)
PORTIA – STEPHANIE THOMAS
NERISSA – CLAIRE CHATE
ANTONIO – GABRIEL BUTLER-LEWIS 
SALERIO – ROBERT PAUL
SOLANIO – RICHARD UNWIN
GRATIANO – NICHOLAS JOHN 
LORENZO – NICHOLAS KARPENKO 
BASSANIO – LACHLAN MCCALL
SHYLOCK – AL FIORENTINI
LAUNCELOT – ASHLEY DAVID
JESSICA – HOLLY HINTON
THE JUDGE – EVE-MARIE AKERS
 The Creative Team
 SCENIC & PROPERTIES DESIGNER – HILARY STATTS
COSTUME DESIGN & CONSTRUCTION – KATE KENWARD
LIGHTING DESIGNER & PRODUCTION PHOTOGRAPHY – ROBERT GOOCH
DEPUTY SALES MANAGER – ELIZABETH BUCKERIDGE
PUBLICITY DESIGNER – ALISON RAYNER
STILLS PHOTOGRAPHER – PAUL L.T. WELCH
Director – Bruce Jamieson
Producer – Alice de Sousa 
REVIEWS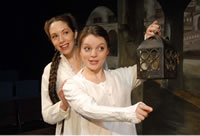 "Yet another superb production at this South London venue." - My Cultural Life
 "Bruce Jamieson, Greenwich Playhouse's resident director, seeks to extract every ounce of tension from the situation before allowing us to relax into an ending of warm-hearted, teasing fun. A careful edit and assured acting have the play humming along until we find ourselves in the courtroom, with the gallant merchant Antonio roped up and chest bared, ready to receive Shylock's knife." – The Stage
 "Director Bruce Jamieson's robust approach to one of Shakespeare's most controversial plays tackles head-on the issue of religious intolerance at its heart." – My Cultural Life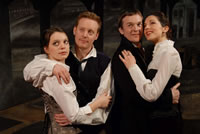 "The intimate surroundings of Greenwich Playhouse are a great place to be immersed in the fast pace of this Galleon Theatre Company production of The Merchant of Venice." – South London Press
 "Galleon Theatre Company has an admirable back catalogue of well acted, entertaining and beautifully produced plays; its production of Shakespeare's The Merchant of Venice has earned a place among them." – indielondon.co.uk
 "This is an absorbing production with the potential to win over a new generation of theatre-goers." - The Wharf
 "The coherence of production design embraces a minimal set, standing for both the Rialto and Belmont, augmented for the trial scene with ominously red drapes and rope nooses. Costumes are unflamboyant, the men in sombre frock-coats and women in muted Vivienne Westwood-style basques." - My Cultural Life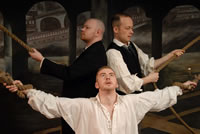 "The thoughtfully designed set was at the heart of a faithful retelling of the classic play, while the actors performed and entertained as the play unfolded in its delightful richness." - indielondon.co.uk
 "With striking costumes by Kate Kenward, who laces up each of the ladies in fantastic corsets, the show is a fast-moving affair that really strives to make the story accessible." - South London Press
 "The play ends with a type of justice but amidst the happiness has a wrong been committed? Plenty to ponder on and plenty to enjoy."- UKtheatrenet
 "It is a great tribute to the team that proceedings are imbued with freshness and directness. The Playhouse deserves to sell every seat. Judging by the box-office queues, they're not that far off."  – musicOHM.com