The Seagull 
by ANTON CHEKHOV
Translated by Elizaveta Fen
Directed by Bruce Jamieson
Produced by Alice de Sousa

Performed at the Greenwich Playhouse August 2005
Galleon Theatre Company, the resident producing company at the Greenwich Playhouse, returned in August 2005 to the work of Anton Chekhov following previous critically acclaimed productions of The Cherry Orchard and 3 Sisters.
"The Greenwich Playhouse is an enjoyably ambitious venue that is a solid producer of classics" - Evening Standard
In the last three hundred years, few playwrights have had a more remarkable impact on theatre than Anton Chekhov. He was born in 1860 in Russia and went on to be regarded one of the country's most celebrated of writers. Whilst studying medicine at Moscow University he wrote farces, short stories, comic sketches, one-act plays and made regular contributions as a journalist. It was however his full-length plays which were to firmly secure his place alongside the world's most renowned dramatists of all time.
"This studio-sized venue has been put on the cultural map with productions of epic quality." -
South London Press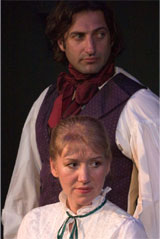 Like most great dramatists, Chekhov was interested in exploring the human condition rather than presenting the specific problems of his time and society. His dramas reflect a mood of spiritual discouragement and his characters often speak as if they have lost their way; lost faith in the future and their own selves. Chekhov reveals an acute understanding of humanity and his plays are enriched with tolerance and a saving sense of humour. These are dramas of heightened emotional content and are driven by feelings of love, hate, rage, jealousy, frustration and passion. His characters constantly obsess over wasted opportunities and unfulfilled aspirations and they especially worry about work and love.
The Seagull was originally unsuccessfully staged in 1896 at St. Petersburg and after this disastrous opening a distraught Chekhov vowed to never again write for the stage. However, the formation of the Moscow Art Theatre was to irrevocably change his fate, and in 1898 under the supervision of Stanislavsky, The Seagull was restaged and went on to become Chekhov's first great theatrical success.
"Something must be said for the Greenwich Playhouse, it is remarkably refreshing to come across a theatre of such a high standard - one that exudes class." - indielondon.co.uk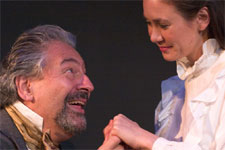 Elisaveta Fen's elegant and poetic translation with its faithful sense of period, time and place was staged at the Greenwich Playhouse by the internationally acclaimed Galleon Theatre Company. The production was directed by BRUCE JAMIESON who has directed over twenty previous Galleon productions and acted some sixty stage plays. His television and film work includes: Roughnecks (BBC); In Suspicious Circumstances (Granada); Crime Solver (BBC); Ali G-Inda House (Universal); Monarch of the Glen (Ecosse); Spongebob (BBC); and Murphy's Law (Tiger Aspect). The Seagull was produced by ALICE DE SOUSA who has produced over sixty stage plays; played leading roles in some thirty theatre productions; written numerous critically acclaimed theatre scripts; and in 2005 was awarded by the American Biographical Institute, the 'Great Women of the 21st Century Award' and 'Woman of the Year Award 2005'. These awards recognise the impact on society of the work of 1000 prolific women throughout the world.
The Cast List
(In Order of Speaking)
Medviedenko - Philip Mansfield
Masha - Emma Lucas
Sorin - Al Fiorentini
Konstantin -Tom Golding
Nina - Emma Choy
Polena - Alexis Leighton
Dorn - Michael Hucks
Shamrayev -Phil Moyse
Arkadina - Jan Bridgman
Trigorin - Matthew Brenher
The Action of the play takes place in Sorin's estate.
(Act I, Act II, Act, III - intermission - Act IV - Two years Later)
The Creative Team
Production Design by - Rachel Baynton
Deputy Stage Management by- Elizabeth Buckeridge
Lighting Design by- Robert Gooch
Publicity Design by- Alison Rayner
Stills Photography by- Paul L.T. Welch
Directed by - Bruce Jamieson
Produced by - Alice de Sousa

Press Quotes
"Galleon has found the perfect intimate space in which to pull us right into Chekhov's milieu." - The Independent
"Galleon Theatre Company gives an excellent account of this much loved classic, capturing the sadness of unrequited love and failed aspiration, but finding the humour in it too. " - What's on in London
"This impressive production gives every actor, and indeed, every character, the space they deserve." - Time Out
"The performances are outstanding" - indelondon.com
"The Seagull is unmissable." - Leisuretime
"This close, we can laugh the laughs of genuine Chekhovian discomfort, and squirm along with our characters caught in a net." - The Independent