The Maias.
by Eça de Queirós.
Adapted for the stage by Alice de Sousa 
Performed at the Greenwich Playhouse March 2011
"The great novelists of the nineteenth century... make one believe, if only for a moment, in the reality of a new life, with fresh values and ideals. Tolstoy, Dostoyevsky, Flaubert and Dickens all have this power: so too does Eça de Queirós, the brilliant Portuguese realist...' - Evening Standard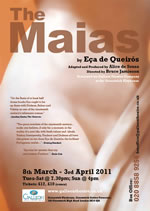 José Maria Eça de Queirós (1845-1900), was the founding father of the Portuguese novel. He was a remarkable writer whom Émile Zola described as being 'far greater than my own master, Flaubert.' He was a master of satire who sought to expose the hypocrisy of a provincial Lisbon society which slavishly paid homage to the cultural eminence of Paris and Romanticism. Eça's fiction is characterised by its barbed humour and lyrical descriptions but it is also tempered by a touching sympathy for humanity's foibles.  
At the age of sixteen Eça went to Coimbra University to study Law and by 1867 was a practising lawyer; a profession which he abandoned to join the diplomatic service. He served as Consul in Havana (1872-74); in Newcastle-upon-Tyne (1874-79); in Bristol (1879-88); and finally, in Paris where he lived until his death. The Newcastle years were the most productive of his literary career. He published a revised version of The Crime of Father Amaro (1876); the celebrated novel Cousin Basílio (1878), and worked on his collection of Letters from London.
"On the Basis of at least half a dozen books Eça ought to be up there with Dickens, Balzac and Tolstoy as one of the nineteenth century's talismanic names.' - Jonathan Keates, The Observer
Although Eça was an admirer of British literature he was not enamoured by English society. In Bristol he wrote: "Everything about this society is disagreeable to me - from its limited way of thinking to its indecent manner of cooking vegetables." As often is the case when a writer is unhappy, the weather is described as 'foul'. However, he was rarely bored in Britain, and was content to stay for fifteen years and to concede: "I detest England, but this does not stop me from declaring that as a thinking nation, she is probably the foremost."
Eça's twilight years were spent in near isolation in Neuilly-sur-Seine where he continued to write journalism and literary criticism. His temperament, it is said, separated him from his fellow men and caused him to seek his own company above others. It is thought that by 1890 his reformist ideas and his Realist spirit were broken. Eça felt that the world which had embraced the Belle Époque had rejected his ideals.
José Saramago (1922–2010), Portugal's Nobel literature laureate described "The Maias" as "the greatest book by Portugal's greatest novelist."
THE MAIAS, Eça's obra-prima was written over a period of eight years and was published in 1888. The novel traces the decline of an aristocratic family and the incestuous love affair between a brother and sister, who are unaware of their blood relationship. In THE MAIAS, Eça creates a powerful sense of human decay which is cultural, political and moral. He sets his fascinating epic novel against the backdrop of a fast changing 19th century Portuguese society. Eça is forceful in his satire and piercing in his social criticism but he is boundless in his enjoyment of the idiosyncrasies of daily life; rich in characterisation; and generous in providing hilarious social comedy.
"On the basis of at least half a dozen books Eça ought to be up there with Dickens, Balzac and Tolstoy as one of the 19th century's talismanic names" - The Observer

THE MAIAS is creatively spearheaded by a very experienced and acclaimed director - BRUCE JAMIESON and is adapted and produced by ALICE DE SOUSA.
The Director - BRUCE JAMIESON is a co-founding member of the Greenwich Playhouse, Galleon Theatre Company and Galleon Films. He has directed nearly thirty previous Galleon productions and played leading roles in some sixty stage plays. As an actor, his television and film credits include: The Oxford Murders (Tornasol); Murphy's Law (Tiger Aspect); Monarch of the Glen (Ecosse); Ali G-Inda House (Universal); Roughnecks (BBC); In Suspicious Circumstances (Granada); Crime Solver (BBC); and Spongebob (BBC).
The Adaptor/Producer - ALICE DE SOUSA - is a multi-award winning writer, producer and actress who has created over seventy stage productions; played leading roles in some thirty plays; written many acclaimed stage and screen scripts; won in 2009 two awards including the Portuguese government's 'Premio de Talento'  in recognition of her 25 year career. In 2005 the American Biographical Institute awarded her with 'Great Women of the 21st Century' and 'Woman of the Year 2005'. (These awards recognise the impact on society of the work of 1000 prolific women worldwide).
Multi-award winning writer, producer and actress - Alice de Sousa - has created a highly enjoyable and profoundly affecting theatre adaptation of an unfairly neglected great European literary masterpiece.
"Alice de Sousa is surely London's leading exponent of Portuguese culture"      - Time Out
Image Gallery
CREDITS
Directed by Bruce Jamieson
Adapted and Produced by Alice de Sousa
THE CAST
The talented and very experienced cast included:
HELEN BANG (Countess de Gouvarinho)
BARRY CLARKE(Alencar)
MARK PHILIP COMPTON (Damaso)
ALICE DE SOUSA (Maria Eduarda)
ADRIAN FRANCIS (Vilaça)
HUGH HEMMINGS (Afonso)
PROVENCE MAYDEW (Miss Sarah)
CHRISTOPHER PEACOCK (Craft)
DAMIAN QUINN (Carlos da Maia)
PETER RAE (Ega)
THE CREATIVE TEAM
The dazzling design team included:
RICHARD COOKE (Costume Designer)
SUNEEDA MARUTHIYIL (Set Designer
PHILIP JONES (Lighting Designer)
PRESS QUOTES:
"I highly recommend you see this delightful gem from Galleon." - Theatre World Internet Magazine
 "The Greenwich Playhouse genuinely managed to make the theatre look just like a Portuguese house - the tiles, the ornate wooden furniture, the flowers, it was all there." -  London Festival Fringe ****
 "Galleon's production does a great job of highlighting Eça de Queirós' talents." - The Stage
"The Galleon Theatre Company delivers a very pleasant theatre evening with its latest version of Eça de Queirós's Os Maias. This adaptation is well-rounded, the staging pleasing and clever and the actors' performances emotional and persuasive." - Remotegoat****
"The Maias is an energetic and entertaining production." - extra, extra
"A superbly gripping play that has you on the edge of your seat". - King's Radio fm
"As always, Galleon has wrapped the adaptation in wonderful costumes, exquisite set and scintillating characters." - Theatre World Internet Magazine
"Galleon Theatre Company has done an impressive job of breathing life into The Maias. The production is flamboyant, intelligent and pleasingly emotional." - The Wharf
"The Galleon has achieved once more its target: staging a good production and promoting Portuguese culture."  - Remotegoat****
"This production does suggest the width of Eça de Queirós' canvas with its picture of fashionable society, its raw presentation of its characters sexual behaviour and irresponsibility, of attitudes to family and 'honour' and critical glance at both cultural and political attitudes.' - British Theatre Guide
"There's no doubting the sincerity of the performances, or the staging and the audience were thoroughly wrapped up in proceedings." - Kentish Times
"The adaptation by Alice de Sousa is very well written and filled with wit and charm." On the fringe
"Alice De Sousa has created an earnest and entertaining adaptation." - extra, extra
"Portuguese literature truly is a goldmine of wonderful writing and seeing this play performed in London is a very positive step towards raising awareness of the existence of this great writing."  - London Festival Fringe****
"Alice de Sousa has adapted and produced the book for the Galleon Theatre Company's production at the Greenwich Playhouse and a fine job she has made of it." - Kentish Times
"The Galleon adaptation is brilliant in conveying those aspects of the text while remaining witty and enjoyable." - Remotegoat****
"Alice De Sousa's adaptation of The Maias will send audience members who are not familiar with Eça de Queirós curiously seeking out the novel that inspired it." - extra, extra
"The Maias makes for very entertaining viewing, and the contemporary tone and humour propels the audience into the centre of the action." - The Stage
"I love a play that gets at my emotions and makes me feel. That's what it is all about I suppose and The Maias surprised me, with its very poignant conclusion."   - Theatre World Internet Magazine